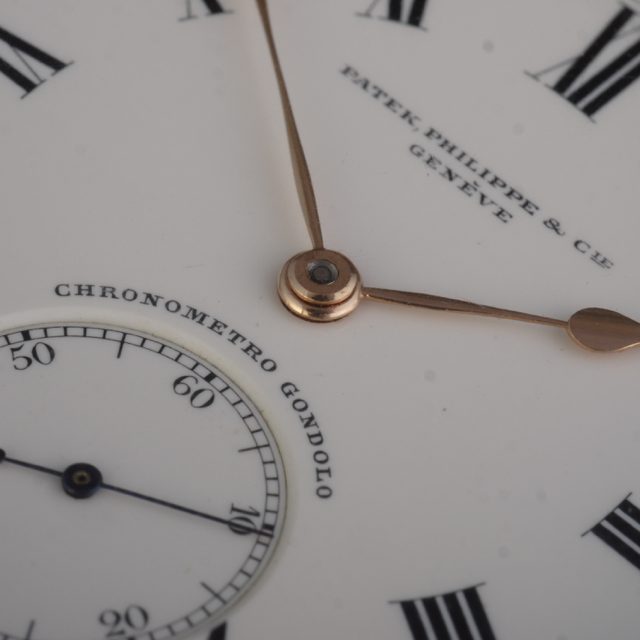 1905
Patek Philippe Chronometro Gondolo
The first zeppelin flight is carried out over Lake Constance near Friedrichshafen, Germany.
1905 Patek Philippe Chronometro Gondolo Pocket watch, 21 lignes movement, 56mm. 18k gold case.
T

he pictures

brings

two

different

watches, one

has the owner's full name on the dial and his initials

engraved

in the case-back

.
Between 1872 and 1927 approximately one-third of Patek Philippe's entire production was sold through the Brazilian retailer Gondolo & Labouriau. These watches are now known as Gondolo watches and represent some of the most coveted Patek Philippe watches ever made.
Originally sold to exclusive members of the ultimate watch collecting club, the Gondolo Gang. To be a member of Gondolo's collecting club in the early 20th century was a symbol of having arrived in Brazilian society.
The retailer selling strategy called the "Plano do Club Patek Philippe". Each member of the 180-strong club would commit to buying a pocket watch with a retail price of 790 Swiss Francs. They would be required to make a 10 Franc payment every week for 79 weeks until the watch was paid for in full.
And here is the trick: Gondolo held 79 consecutive weekly lottery draws, in which the lucky winners were released from their future payment responsibilities. For example, the first weekly winner would get his Patek Philippe for free, the second would only pay 10 Francs for his watch, the third winner, only 20 Francs, and so on. The remaining 101 members would pay full price for their watches. The system allowed for members of the gang to circumvent the Brazilian ban on gambling, since the clubs were considered private societies.
The great majority of Chronometro Gondolo watches were similar in design. Four basic requirements were requested by Gondolo & Labouriau to distinguish them from Patek Philippe's regular production.
Firstly, the watches were made with gilded brass plates and featured the elegant S-shaped fourth wheel patented by Patek Philippe on 13 January 1893. The S-shaped minute train bridge is now considered one of the company's hallmark designs.
Secondly, a Swiss mustache lever escapement with bi-metallic compensation balance featured on each watch to meet high precision standards.
Thirdly, a square socket was necessary in each of the mainspring barrels.
Lastly (and the coolest), the fourth, intermediate and minute wheels of each watch were made in 9k rose gold.
Chronometro Gondolo pocket watches were made in several different sizes and design configurations, certain examples were fitted with a center seconds chronograph, nine different caliber sizes ranging from 10 to 22 lignes.
The dials were typically white enamel with roman numerals, with some examples featuring the name of the owner below 12 o'clock.