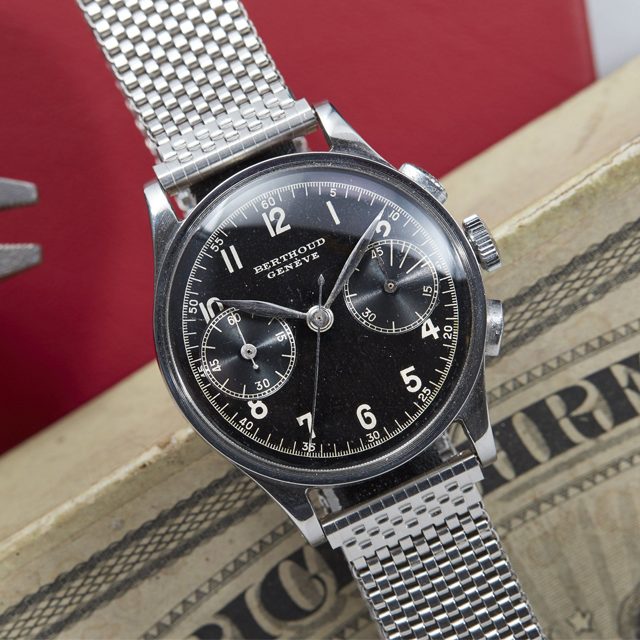 1933
Berthoud Chronograph
Hitler becomes German chancellor
1933 Berthoud Geneve Chronograph
Original Berthoud Geneve Chronograph Manual Winding, Stainless steel case is approximately 35mm (excluding crown). These watches were sold under Berthoud's name from the 1920s to 1947. In countries such as the Netherlands, New Zealand, France, South Africa, and even in Iraq.
Berthoud is a name that might not be familiar on its own, but it's connected to one that should be quite familiar to collectors of vintage chronographs: Universal Genève.
In 1894, watchmaking schoolmates Numa-Emile Descombes and Ulysse George Perret established Universal Watch. But three years later, Descombes died at the young age of 34. Perret bereft of his friend and with a burgeoning watch company to run took in a young movement designer by the name of Louis Eduoard Berthoud.
Descombes and Perret had already established themselves as noted producers of complicated pocket watches. Even making a foray into early wristwatches. The addition of a talented designer proved invaluable in securing the fledgling manufacture's success. They sold watches under Berthoud & Perret or under the Universal marque and became the first manufacturer to release a wrist chronograph during the First World War.
In the 1930s, shortly after Perret's death, the manufacturer moved from Le Locle to Geneva. It was during this period in Geneva that the trademark of Universal Genève and, registered along with a new logo. The business was booming, despite the worldwide depression that engulfed the world's economies so much. So that Universal Genève (now under the leadership of Perret's son Georges) bought out the old Martel èbauche manufacture in Pont-de-Martel.
This Berthoud Geneve Chronograph is a brilliant exercise in minimalism, reminiscent of those that adorned the wrists of soldiers and pilots in the Dutch military. With a glossy black dial, bold Arabic numerals, and wide-open twin registers.