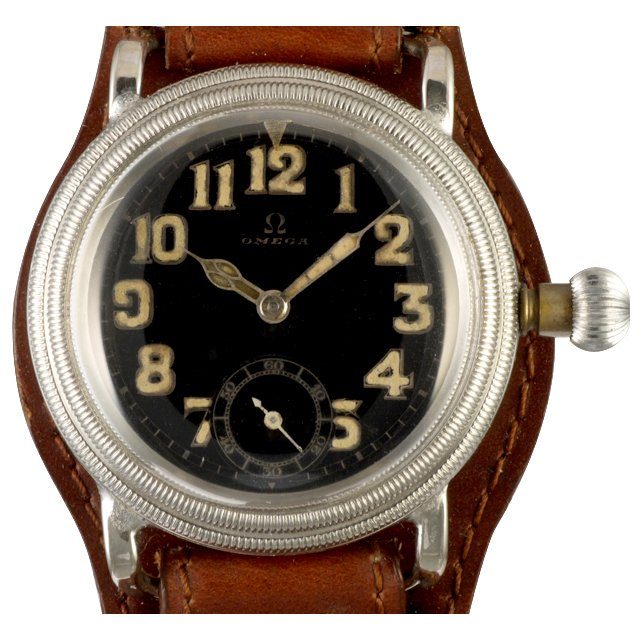 1934
Omega Pilot
Enrico Fermi works on the creation of new elements through the bombardment of uranium with neutrons.
rare 1934 Omega Pilots watch ref. CK700AD, matte black oxidized dial, minute track, radium skeleton hands, recessed small seconds, revolving fluted bezel with an arrow for determining the duration of a flight, spherical crown fixed to a long tube for easier manipulation with gloves, staybrite steel. Movement protected by dust cover and case back with grooved edge.
Origins of the Fluted Bezel:
While we think of the fluted bezel as a decorative element on today's watches, it had its origins in the very first waterproof watches. Rolex reports that when the Rolex Oyster first appeared in 1926, the fluted bezel had a functional purpose: it served to screw the bezel into the case helping to ensure that the watch was waterproof. The fluting on the bezel was identical to the fluting on the case back, with the same tool being used to screw-down both the front bezel and the case-back.
Omega was founded in 1848 by Louis Brandt at the age of 23. The brand's reputation grew fast and in 1895 the watches achieved a precision of 30 seconds a day.
By the turn of the 19th century Omega was one of Switzerland's largest watch companies with 240,000 watches produced annually and employing 800 people.
Omega made its debut in sports during the Gordon Bennett international ballooning Cup in 1917; since then Omega has gone on to be the official timekeeper at 21 Olympic Games.
In 1936 Omega set the remarkable World precision record of 97.8 points at the Kew-Teddington observatory in England.
In 1957, with motorsport in mind, Omega launched the Speedmaster, which in 1965 was chosen by NASA as its official chronometer in Space. Four years later the Moonwatch was the first watch to be worn on the Moon, when on 21st July 1969 Neil Armstrong made his giant leap for mankind. Currently Omega belongs to the Swatch Group.
The concept of the wristwatch goes back to the early 16th century when Elizabeth I of England received a wristwatch from Robert Dudley in 1571.
Wristlets, as they were called, were reserved for women. Mens considered that wristwatches were too small to be properly engineered in order to keep time accurately.
This all started to change in the nineteenth century wars, when early models were essentially standard pocket-watches fitted to a leather strap. By the early 20th century manufacturers began producing purpose-built wristwatches. The Swiss company, Dimier Frres & Cie patented a wristwatch design with the now standard wire lugs in 1903.
After the WWI was over, thousands of veterans were demobilized and went back to civilian life wearing the wristwatch that had served them faithfully. Seeing these battle hardened veterans wearing their wristwatches changed the public perception that wearing a wristwatch was not manly, and sales of the men wristwatches take off.