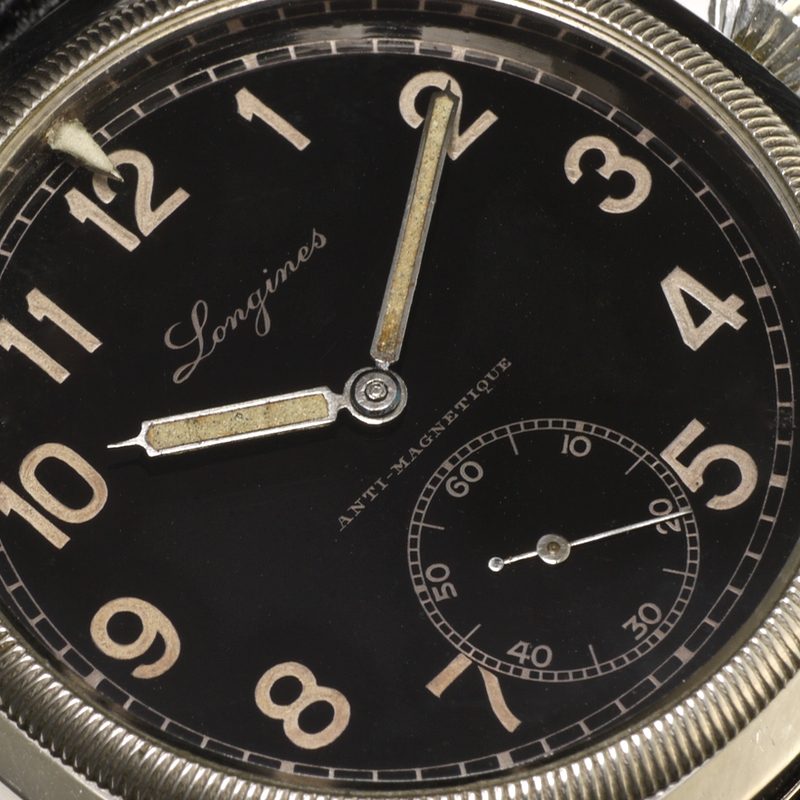 1935
Longines Majetek
Mussolini invades Ethiopia; League of Nations invokes sanctions
1935 overly copied Longines Majetek Vojensk Spravy, Czech Pilot B-Uhr Flieger. Easy to read black porcelain dial with big white Arabic numbers. The fluted bezel rotates with an internal triangular marker allowing a very rudimentary timing.
The Majetek Pilots watch was issued to members of the Czech Air Force in the late 1930's and early '40s and produced by three different brands – Longines, Lemania and Eterna.
In the late 1920s to mid-1930s, Longines supplied watches for the Czech Air Force that were part of the standard equipment for pilots. Even now, these 90 year-old watches are still very appealing, with specifications and a design that can be called contemporary; this model was recently relaunched by Longines.
Between the two World Wars, plenty of watch brands supplied timekeeping tools to military forces. These included Longines, Glashashutte and A. Lange & Sohne, which are now famous brands.
The 15 lignes (approx. 34mm) movement justifies the size of the watch. Coming from a pocket watch, it features a very nice gilt frosted finish and a singular architecture of the bridges. The Longines caliber 15-94 is a big and heavy movement, of course manually wound
Origins of the Fluted Bezel:
While we think of the fluted bezel as a decorative element on today's watches, it had its origins in the very first waterproof watches. Rolex reports that when the Rolex Oyster first appeared in 1926, the fluted bezel had a functional purpose: it served to screw the bezel into the case helping to ensure that the watch was waterproof. The fluting on the bezel was identical to the fluting on the case back, with the same tool being used to screw-down both the front bezel and the case-back.
Longines was founded in 1832, its winged hourglass logo is the oldest registered trademark for a watchmaker.
Longines provided timers used at the first modern Olympics in 1896.
In 1899, a Longines watch went to the North Pole with the Arctic explorer Luigi Amedeo of Savoy.
Charles Lindbergh, after his transatlantic flight, designed a pilot watch to help with air navigation. Built to his specifications, the Longines hour angle was introduced in 1931 and it is still produced today.
The company began to produce military issue watches for the second World War, most for the European forces.
Today Longines is owned by the Swatch Group.