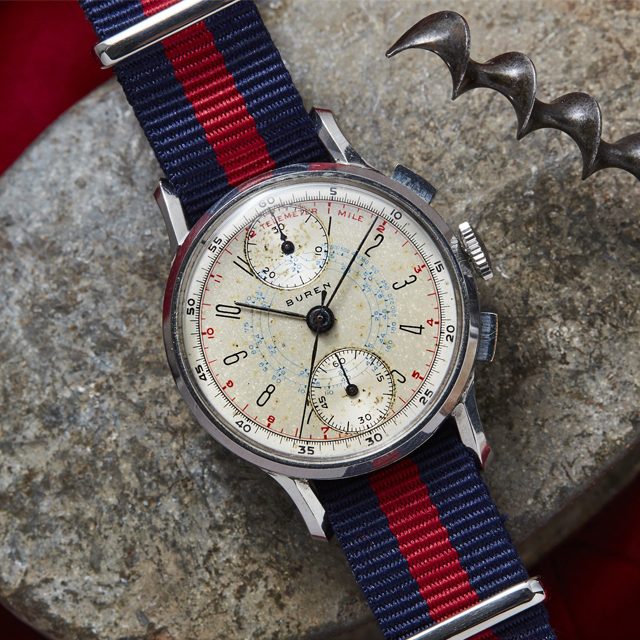 1938
Buren Chronograph
Hitler marches into Austria; political and geographical union of Germany and Austria proclaimed.
1938 Buren Up and Down Chronograph manufactured in the factory in Buren and the company name was Buren Watch Co., Switzerland. with stainless steel case is approximately 33mm (excluding crown) a sharp little case, and a stippled dial, it's redolent with Art Deco stylings. This Buren Chronograph was a very fine and attractive and familiar with an "up/down" layout.
From 1899 to 1932, H. Williamson Ltd. sold watches that were manufactured in the factory in Buren. A 1910 ad announced that Buren watches were available in "standard sizes," with "all parts perfectly interchangeable." And in 1926, advertisements touted Buren watches as "the perfect watch" that united "British enterprise and capital" with Swiss industry.
The watch industry is one of the deep connections. Though oftentimes familial, owing to the industry's roots in insular enclaves (like Switzerland's mountain-bound valleys).
These connections transcended international borders as Europe industrialized. Yet Switzerland remained at the heart of it, exporting either watch parts or fully-assembled watches to other countries.
And many of these watches ended up in England. England had long been a leader in the world of horology. But Switzerland's adoption of mass-production in the 19th century brought the Swiss far into the lead.
While both England and Switzerland produced the same number of watches—200,000—in 1800, by the middle of the century Switzerland churned out a staggering 2.2 million watches per annum. And in England, the cessation of import duties on watches saw that more and more watches were being imported from Switzerland. Enterprising English entrepreneurs, seeing the money that could be made, made Swiss watches their stock-in-trade. H. Williamson, Ltd., founded in the late 19th century, was one such company.
The company's founder, Henry Williamson, first appears in census records as a "jet ornament maker,". Crafting brooches and other objects out of the hard, black substance beloved by jewelers since the Romans. But by 1901 Williamson's next cameo in the census had him listed as a "Managing Director of a manufacturing watchmaker, jewelers, etc". It was in this last endeavor that Williamson enjoyed the most success. With a bustling business and two factories under his name: one in Coventry and another in the village of Buren, Switzerland.
In the 1930s, the economic devastation wrought by the Great Depression forced H. Williamson Ltd. to go out of business. The factory in Coventry was closed. And in Switzerland, the employees of the Buren factory bought it from their former owner. Then renamed it Buren Watch Co., Switzerland.
For the next thirty years, Buren would continue to produce watches. In the early 1960s, the company enjoyed some success providing railroad-standard watches to the Ferrocarriles Nacionales de Mexico or Mexican National Railroad. Even Buren's 1966 acquisition by Hamilton did not spell the end for the brand to the contrary. It was Buren's automatic "Intra-Matic" caliber that would form the basis for the Chrono-Matic or Calibre 11 movement used by Heuer, Breitling, and, of course, Hamilton.
This particular watch is a chronograph produced by Buren in either the late 1930s or the early 1940s. The chronograph's familiar "up/down" layout is typical of those using the column wheel Venus 170 movement, in this case, signed by Buren.
With a sharp little case and a stippled dial, it's redolent with Art Deco stylings, a stunner in any country and in any era.