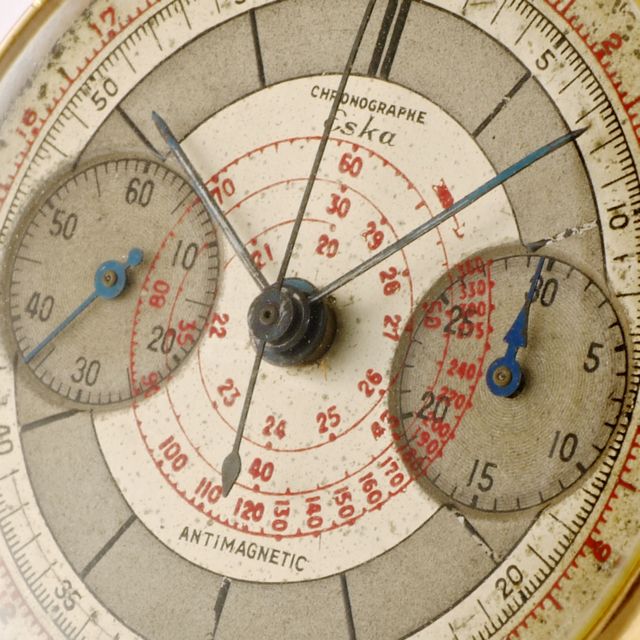 1938
Eska Chrono Tachy-Telemeter
Hitler marches into Austria; political and geographical union of Germany and Austria proclaimed
1938 Eska Chronograph with a beautiful Telemeter and Tachymeter scales dial.
this case reminds me of the old pocket watches, oval pushers and fine lugs are remnants of the first pocket conversions "wire lugs" in the next decade the most commons watches won waterproof cases with round pushers and screw-back cases.
Eska was one of the smallest watch brands in Swiss. After the end of World War I, many watch manufacturers appeared in Europe and Sylvan Kocher & Cie. was of them. The name Eska is the phonetic spelling in French of the letter s and k (es-ka). The wristwatches of the brand included manual and automatic models, besides models with full calendars and digital time displays.
A tachymeter scale measures how fast an object is moving. The scale can be found either on the dial or in the bezel. Most tachymeters start at 400 and end at 60, but some models can show different numbers.
A telemeter scale measures the distance between the user of the watch and the event seen and heard. It was used extensively to calculate when artillery fired. When you saw the light of the shot of the artillery, you would push the start button and push the stop button when the thunder was heard. The number shown in the scale refers to the distance.