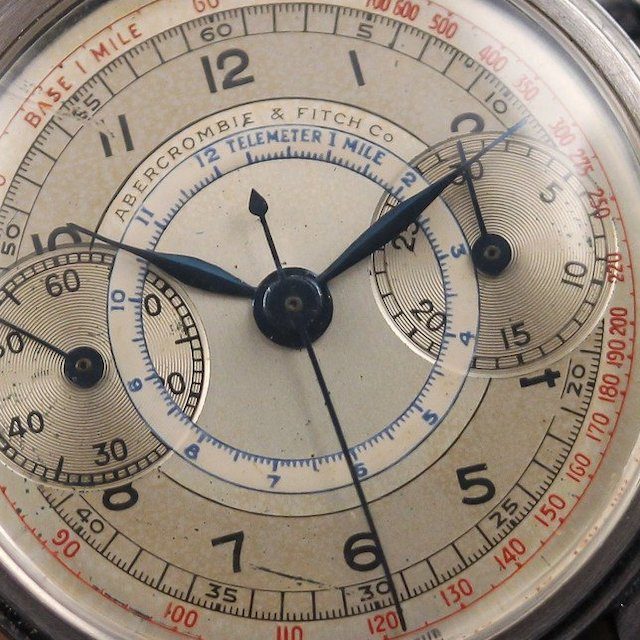 1940
Abercrombie & Fitch Chronograph Steel
Winston Churchill becomes Britain's Prime Minister.
1940 Abercrombie & Fitch Chronograph Steel.
Abercrombie & Fitch Chronograph Steel features a stainless steel case is approximately 33 mm, with "Abercrombie & Fitch Co" signed dial and engraved on case back and movement, a manually-winding Landeron chronograph movement, twin intersecting subsidiary dials, printed telemeter scale, and blued steel hands. Its killer looks in a form-follows-function kind of way is a distraction to anyone who wears it.
Created in 1940's when Abercrombie & Fitch still wasn't the trendy fashion brand that they are today, but a true outfitter for the serious outdoorsmen, offering everything from mosquito netting to elephant guns in their stores – serious provisions for your safari into the dark heart of Africa – specially their flagship store on Fifth Avenue which featured giant taxidermied elephants at the entrance.
Vintage timepieces signed by Abercrombie & Fitch aren't all that unusual and often command a fair premium over unsigned versions. But an all-original timepiece manufactured for and triple-signed by Abercrombie & Fitch Co is a different story.
Submitted by Analog Shift.