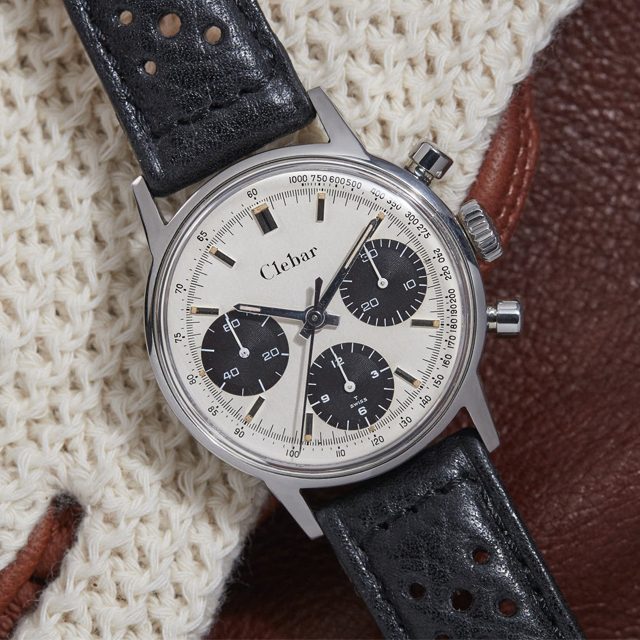 1966
Clebar Chronograph
MIT biochemist Har Khorana finishes deciphering the DNA code

1966 Clebar Three Register Chronograph with Stainless steel case is approximately 36mm. (excluding crown and pushers), with Valjoux 7736 movement.  With screw on back and round pushers. These Clebar Three Register Chronograph watches were distributed in the U.S. by Trauner and Son. The same company that distributed Zodiac.
In the 1920s it was founded, but Clebar didn't really take off with consumers until the 1940s. When the brand offered a range of high-grade stopwatches and rally timers for racing and sporting events. They turned their attention to wristwatches, they specialized in beautiful chronographs which they produced and distributed in conjunction with more well-known brands. And they collaborated with Leonidas in the early '60s.
When it comes to vintage chronographs, our watch list is filled with names like Wakmann, Universal Genève, and Wittnauer—long-dead manufactures whose products are suddenly enjoying a renaissance in today's market. But every so often we like to go for something truly unique and (relatively) unknown, like this chronograph from Clebar.
Before the Quartz Crisis of the 1970s. When the watch industry (Swiss and Japanese alike) scrambled to adopt the new quartz technology, mechanical watch brands popped up like mushrooms on a rainy day. But at the heart of many of these brands were often small.
Family-run operations that sought to capitalize on clockmaking legacies.But while those companies disappeared, the watches that they produced remain unfamiliar names that belie their quality construction. Clebar is one of those brands!
This Clebar Three Register Chronograph is powered by the venerable Valjoux 7736 movement, a workhorse of a caliber used by everyone from LeJour to Heuer. This movement is versatile and robust. So produced in such large quantities means that parts are remarkably interchangeable. This is a blessing (and a rarity) for collectors of vintage chronographs.
Submitted by: Analog Shift