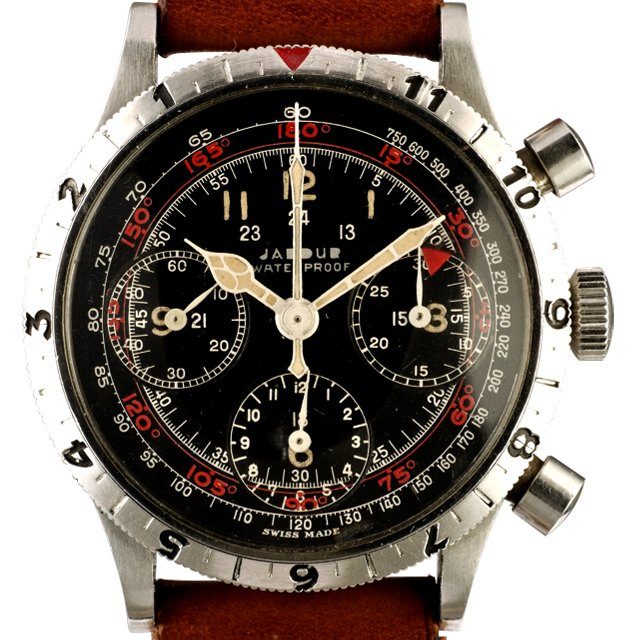 1941
Jardur Bezelmeter
U.S. and Britain declare war on Japan
1941 Jardur Bezelmeter.
This watch is a real piece of Aviation History Jardur Bezelmeter, a watch ahead of his time. The Bezelmeter was designed for pilots. It was essentially a cockpit instrument for the wrist.
Two features incorporated in the design give clear evidence of this intent. The bezel on the case is an independent chapter ring graduated in counterclockwise hours. Rotating the ring to align the mission duration hours with the hour hand on the dial at take-off gives the pilot a quick reference of the flight time remaining during any point in the mission.
The hands are reminiscent of the Smiths aircraft clocks from the mid-century and are the nicest I have ever seen, known as Cathedral hands with a teardrop nose on the hour hand. The Arabic numbers were made of lume.
Like all Valjoux 71 movements the dial is has a 12-hour recording chronograph with 30 minutes elapsed time recorder on the right It also can track a second time zone with the 12-hour. These functions are essential to any pilot for calculating waypoints and fuel stops.
a Tachymetre on the outside edge and 60 sec counter around the center including the sub-dials.
The second feature is the red degree meter scale on the dial, which is graduated from 0 to 180. The Aircraft have control settings to produce a standard turns rate of 3 degrees/sec, meaning that the chronograph function can be used to measure the amount of turn.
This is a large watch particularly for one that is a 1940s watch, watches just weren't made so big then but now it is just perfect.
The full brushed case is very sturdy and solid, the underside of which one lug has the case number 592, a feature of several pre-War military watches. The sharp coin edge bezel has is brushed and Arabic 12 hours, and a triangle in red at 12 o'clock.
The Jardur Import Company was started by Samuel Klepper in New York City N.Y. in 1937. It was located at 874 Broadway in the McIntyre Building. In 1945, based on the production of various aviation and flight accessories, the company changed their names to the Jardur Aviation Company.
After creating their signature Jardur model, the Bezelmeter, they began selling their watches in United States Army and Navy Post Exchanges (PX). The Jardur private label was never commissioned for any military branch, however, many aviators and military personnel wound up possessing one of these Swiss-made watches.
Jardur distributed its watches and navigational flight plotters exclusively to the military through post exchanges and ships stores, clear evidence that the Jardur watch company regarded their watches as professional tools.
Samuel was a pilot and the watches he designed were for a special class of users for whom the management of time was an important element of their profession.