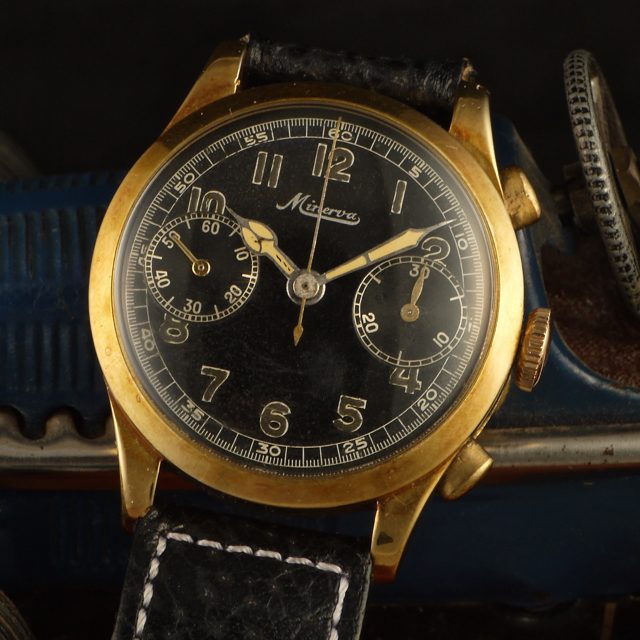 1941
Minerva Chronograph
Japanese surprise attack on U.S. fleet at Pearl Harbor brings U.S. into World War II; U.S. and Britain declare war on Japan.
1941 Minerva Chronograph 13-20 CH movement.
Minerva is one of those underrated brands that is now getting more attention since both Panerai and Montblanc introduced watches based on historic Minerva chronograph movements.
The brothers Charles and Hyppolite Robert founded in 1858 the company in the Bernese Jura. At first, the firm worked as establisher of pocket watches, preferring movements of Fontainmelon (FHF).
The first Minerva calibre was a pocket watch movement with cylinder escapement. The company named each major movement sequentially, starting with Calibre number 1 and continuing through number 55 in the classic era. Today, the company produces numbers 15, 21, 22, 62, and 65.
In 1923 the brand name "Minerva" was introduced, and in 1929 the company was renamed to "Minerva SA, Villeret".
Minerva was bought by Montblanc back in 2004 and provided the mechanical jump-start to help Montblanc become a serious watch brand.
While the Pulsograph is $34,500, you can buy vintage Minerva chronographs with the 13-20 CH movement, upon which the M13.21 is based, for a fraction of the price.