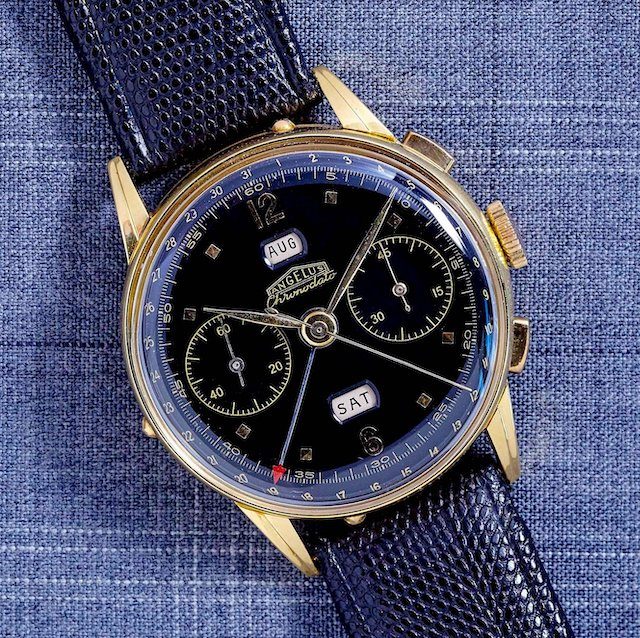 1942
Angelus Chronodato Gold 18K
Declaration of United Nations is signed in Washington.
1942 Angelus Chronodato Gold 18K, ref. , Calibre
This piece of Angelus Chronodato Gold 18K is an absolutely stunning example cased in solid 18K yellow gold, finished with a breathtaking jet-black gloss dial. It is also one of the first Angelus Chronodato with an English language date wheel – perfect for those who don't know any other language and can't figure out the Portuguese or Church Latin days of the week.
Unlike the many Swiss brands that turned out cool looking watches by assembling quality components from multiple suppliers, Angelus was among the elite group of watchmakers who built in-house complicated chronographs decades ago. The Angelus Chronodato Gold 18K is one of the earliest full calendar chrono wristwatches, it proved to be popular among mid-20th century customers.
Since its early stages, Angelus excelled not only at creating high quality movements, but also at designing them for ultimate legibility. Instead of scrunching up the calendar around the center of the dial like many other brands, the Angelus Chronodato Gold 18K gave each register plenty of breathing room and arranged the day and date windows in a pleasant symmetrical layout. The date displayed at the outer edge of the dial, marked by a red-tipped hand.
At first glance, this Angelus Chronodato Gold 18K from 1942 appears to be a simple vintage chrono, but a closer look let's one appreciate its thoughtfully-designed functionality.
Just like many others, Angelus is one of the old Swiss chronograph masters that couldnt survive the Quartz Crisis. They succumbed to the changing international watch market and shuttered their factory, leaving behind some of the finest chronos of the mid-century.
Luckily, they left behind some amazing artifacts, and since Angelus is only in the nascent stages of a collecting revival, the value proposition of these watches is pretty incredible for any collector.
Submitted by Analog Shift.