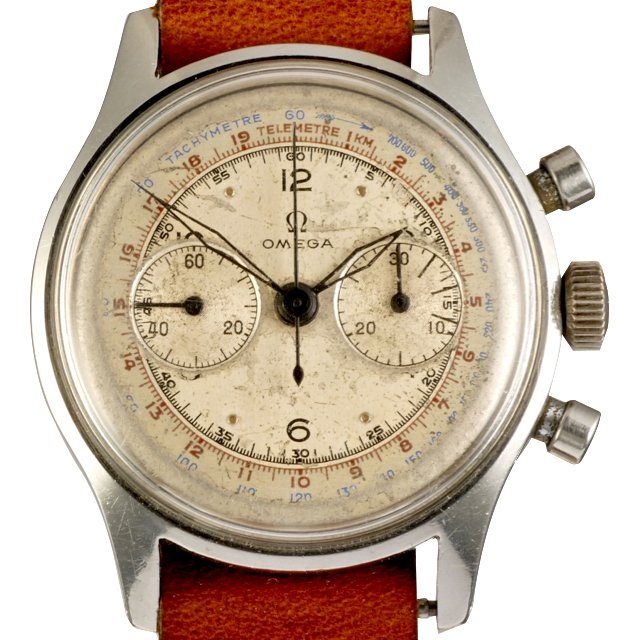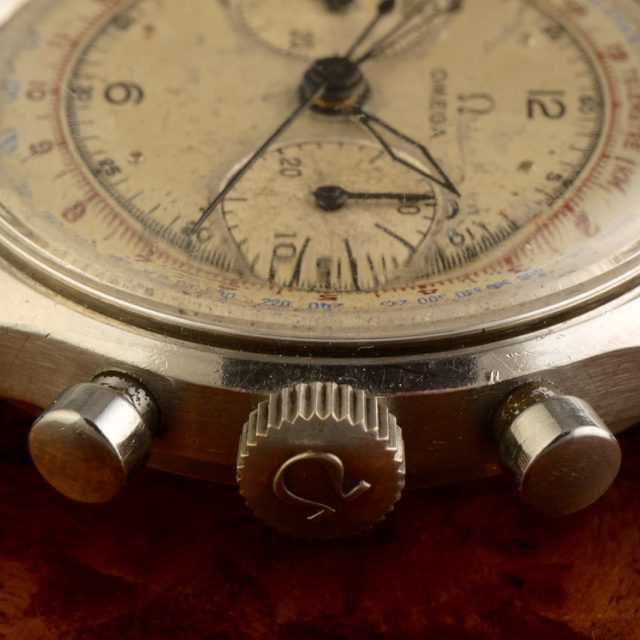 1944
Omega Chrono Tachy-Telemeter
Allies invade Normandy on D-Day
1944 Omega Tachy-Telemeter ref. CK2384 5, 35mm. case. Military style dial and tritium hands, 30 minute counter with 3 minutes indexes for calculating telephone charges, at time billed in 3 minute intervals.
During WWII, the watches needed to become more robust and waterproof due to their military application, so the chronograph with round pushers and screw back cases was a must at that time.
A tachymeter scale measures how fast an object is moving. The scale can be found either on the dial or in the bezel. Most tachymeters start at 400 and end at 60, but some models can show different numbers. A telemeter scale measures the distance between the user of the watch and the event seen and heard. It was used extensively to calculate when artillery fired. When you saw the light of the shot of the artillery, you would push the start button and push the stop button when the thunder was heard. The number shown in the scale refers to the distance.
Omega was founded in 1848 by Louis Brandt at the age of 23. The brand's reputation grew fast and in 1895 the watches achieved a precision of 30 seconds a day.
By the turn of the 19th century Omega was one of Switzerland's largest watch companies with 240,000 watches produced annually and employing 800 people.
Omega made its debut in sports during the Gordon Bennett international ballooning Cup in 1917; since then Omega has gone on to be the official timekeeper at 21 Olympic Games.
In 1936 Omega set the remarkable World precision record of 97.8 points at the Kew-Teddington observatory in England.
In 1957, with motorsport in mind, Omega launched the Speedmaster, which in 1965 was chosen by NASA as its official chronometer in Space. Four years later the Moonwatch was the first watch to be worn on the Moon, when on 21st July 1969 Neil Armstrong made his giant leap for mankind. Currently Omega belongs to the Swatch Group.