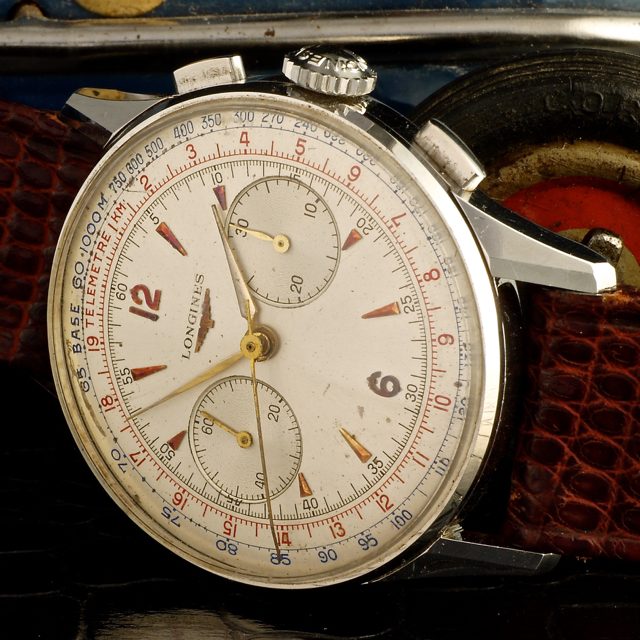 1945
Longines Chrono Flyback
San Francisco Conference establishes the United Nations
Very rare 1945 Longines movement caliber 30CH Fly-back ref. 5982 38mm. case.
If you think Patek made the best chronographs in the 1940s and 50s you're half right. Patek absolutely made some of the best and still most desirable chronos in the middle part of last century, but there was another manufacturer making truly top-notch stopwatch mechanisms for the wrist, and that was Longines. Yes, Longines.
The 13ZN chronograph gave way to the 30CH chronograph with a similar design but slightly upgraded, though somewhat less desirable now. The 30CH is an in-house movement made before Longines ceased the production of chronographs in the mid-1960s, when they began using Valjoux, Venus and Lemania chronograph movements, just like everyone else. So, next time you see an old Longines chronograph it might be worth a second look. Often, uneducated dealers will price them well below market value, and that's a very, very good thing to remember!
Longines was one of the leading manufacturers in the world. And I say manufacturer because while even Patek, Vacheron, and AP were using outsourced movements, Longines was indeed one of the few companies manufacturing its own in-house chronograph movements.
Longines was founded in 1832, its winged hourglass logo is the oldest registered trademark for a watchmaker.
Longines provided timers used at the first modern Olympics in 1896.
In 1899, a Longines watch went to the North Pole with the Arctic explorer Luigi Amedeo of Savoy.
Charles Lindbergh, after his transatlantic flight, designed a pilot watch to help with air navigation. Built to his specifications, the Longines hour angle was introduced in 1931 and it is still produced today.
The company began to produce military issue watches for the second World War, most for the European forces.
Today Longines is owned by the Swatch Group.