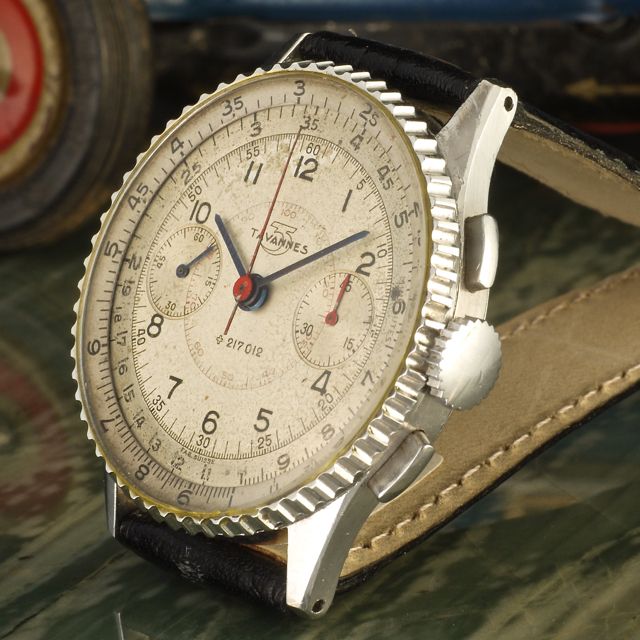 1946
Tavannes Chronomat
First meeting of U.N. General Assembly
1946 Tavannes Chronomat Stainless steel 35.3mm. case and 36.6mm. bezel, it looks exact as the Breitling Chronomat ref. 769
Tavannes used to be one of world's largest watch manufacturers. During its heyday in the 1920s and 30s, five manufacturing plants turned out as many as 4,000 watch movements a day. It employed around 2,000 workers, and had turned the little town of Tavannes, Switzerland, into a booming manufacturing center. The company not only made movements for its own branded watches, but supplied movements to other prestigious watch manufacturers and retailers, including Jaeger LeCoultre, Dunhill, Hermes, and Cartier. The company even made a custom watch for the king of England that eventually became one of the company's iconic models.
The story of Tavannes begins in 1891 with the founding of the company by a 40-year-old master watchmaker, Henri-Frederic Sandoz, in the town of Tavannes, today a small city of approximately 3,500. Sandoz was a mechanical genius; his company not only made its own movements called Calilbers in-house (one of the few Swiss companies to do so), but also developed proprietary watch-making machinery (lathes, milling machines, etc.) which was sold to other manufacturers.
The company early on saw the market potential for wristwatches, producing finished models as early as 1905. By the 1910s, it was producing Calibers specifically manufactured for wristwatches, while most other companies were still using pocket watch movements adapted (some rather crudely) for conversion into wristwatches. One of the first wristwatches we see is a Tavannes wristwatch made for the U.S. Signal Corps.