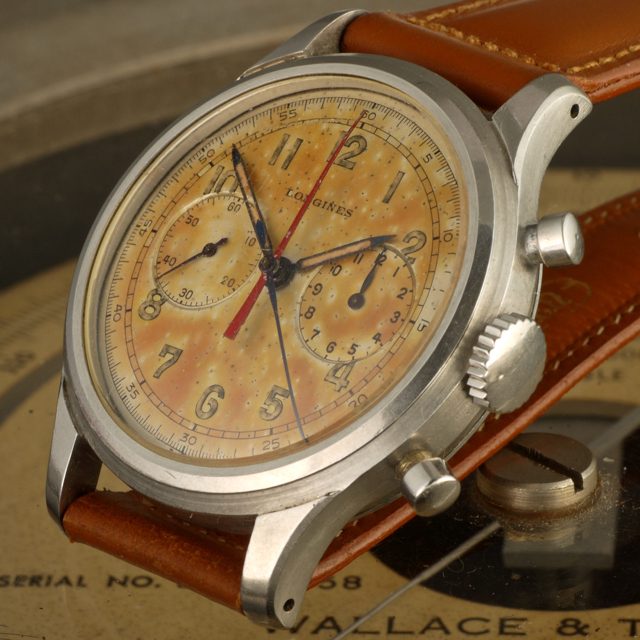 1947
Longines Chronograph 13ZN-12
Soviet Union rejects US plan for UN atomic-energy control
1947 Longines Cal 13ZN-12 ref. 23068 central minutes chronograph, the movement is the famous 13ZN reworked to have the complicated extra feature of a central minute counter.
This is the Holy Grail of all Longines chronographs and pretty much the end game of Longines collecting. There just aren't many out there, particularly without redone dials. Its thought that only a few hundred watches of this type were produced in different cases in the 40s. Introduced in 1936, the Caliber 13ZN was a large 13 1/4 ligne movement. The large diameter was deliberate, as the caliber would be placed into several aviation-oriented chronographs.
If you think Patek made the best chronographs in the 1940s and 50s you're half right. Patek certainly made some of the best and still most desirable chronos in the middle part of the last century, but there was another manufacturer making truly top-notch stopwatch mechanisms for the wrist, and that was Longines. Yes, Longines.
Longines was one of the premiere manufacturers in the world. And I say manufacturer because while even Patek, Vacheron, and AP were using outsourced movements, Longines was indeed one of the few companies manufacturing its own in-house chronograph movements.
Longines was founded in 1832, its winged hourglass logo is the oldest registered trademark for a watchmaker.Longines provided timers used at the first modern Olympics in 1896.
In 1899, a Longines watch went to the North Pole with the Arctic explorer Luigi Amedeo of Savoy.
Charles Lindbergh, after his transatlantic flight, designed a pilot watch to help with air navigation. Built to his specifications, the Longines hour angle was introduced in 1931 and it is still produced today.
The company began to produce military issue watches for the second World War, most for the European forces.
Today Longines is owned by the Swatch Group.