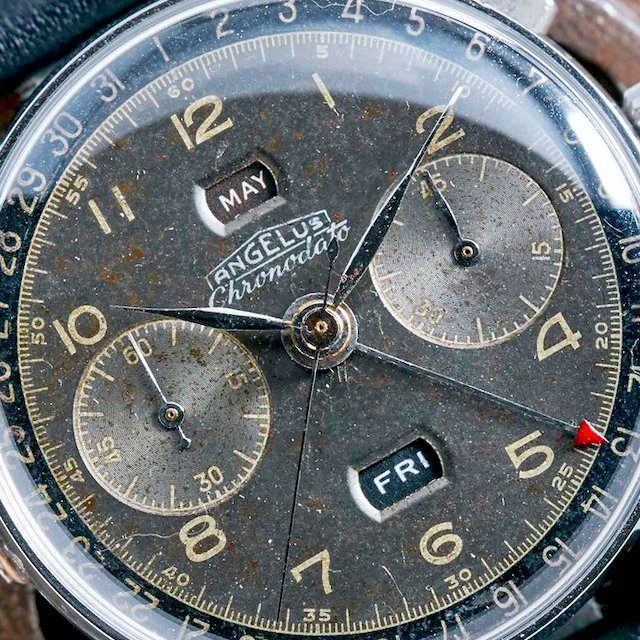 1948
Angelus Chronodato Deluxe
Nation of Israel proclaimed; British end Mandate at midnight; Arab armies attack (May 14).
1948 Angelus Chronodato Deluxe ref. Calibre
Like many in the Angelus Chronodato series, the design of the 1948 Angelus Chronodato Deluxe's dial is an exercise in legibility. While a watch with so much information on the dial could seem cluttered, the dial of the Chronodato is perfectly balanced, with the day and month windows interplayed on a vertical axis amidst the chronograph sub-registers. The date's displayed in a chapter ring on the outer edge of the dial, indicated by a red-tipped hand.
Angelus is a brand whose chronographs have been gaining a lot of momentum in vintage collecting circles. Like many brands, Angelus has a long and storied history of making watches – and making them well.
Established in Le Locle in 1891 by the Stolz brothers, Angelus at first assembled watches out of parts made by other manufacturers. But as the 20th century dawned, Angelus were designing and manufacturing their own movements entirely in-house. They won awards at international exhibitions almost every year from 1902 to 1926.
Their chronographs, in particular, were as innovative as they were praiseworthy. The Chronodato, introduced in 1942, was the first chronograph to feature a calendar. With its versatility of style, the Chronodato became the best-selling watch in Switzerland.
Angelus followed the success of the Chronodato series with the Angelus Chronodato Deluxe in 1948. The Chronodato Deluxe was the first chronograph to feature a big date complication, and also bore a moon-phase indicator. Another specialized chronograph, this time for physicians, followed in 1960.
But innovation is often a double-edged sword, especially in the world of watchmaking, where thousands of hours of brain power and the equivalent amount of money can prove fatal if a product does not sell well. The poor performance of the Tinkler – that contained a quarter repeater, of all things – combined with the general poor sales of mechanical wristwatches in the Swiss watch industry, spelled doom for Angelus.
The brand soldiered on throughout the 1960s until the Quartz Crisis tolled the death of the brand.
The brand has been resurrected in recent years, in concert with movement manufacturer La Joux Perret. Like its historical namesake, the new Angelus focuses on technical excellence. As the brand continues to release watches, the name will be pushed farther and farther into the limelight.
Submitted by Analog Shift.