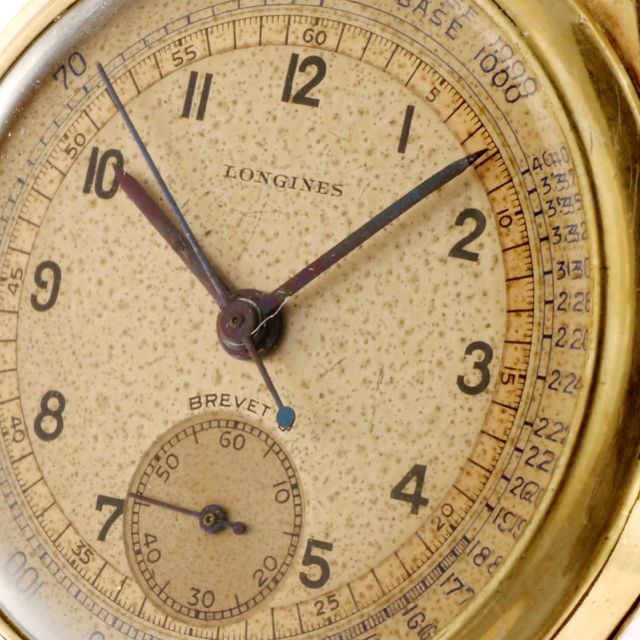 1950
Longines Stop-second
Korean War begins when North Korean Communist forces invade South Korea
1950 Longines Stop-second tachymeter, rare one-button fly-back aviator's chronograph, 33mm case, hand winding cal. 12.68.
A tachymeter scale measures how fast an object is moving. The scale can be found either on the dial or in the bezel. Most tachymeters start at 400 and end at 60, but some models can show different numbers. Its very simple to calculate the speed: just mark a point and push the start button. After the object has moved for one kilometer (or mile), push the stop button. The number indicated by the hand shows the speed of the object.
Longines was founded in 1832, its winged hourglass logo is the oldest registered trademark for a watchmaker.
Longines provided timers used at the first modern Olympics in 1896.
In 1899, a Longines watch went to the North Pole with the Arctic explorer Luigi Amedeo of Savoy.
Charles Lindbergh, after his transatlantic flight, designed a pilot watch to help with air navigation. Built to his specifications, the Longines hour angle was introduced in 1931 and it is still produced today.
The company began to produce military issue watches for the second World War, most for the European forces.
Today Longines is owned by the Swatch Group.