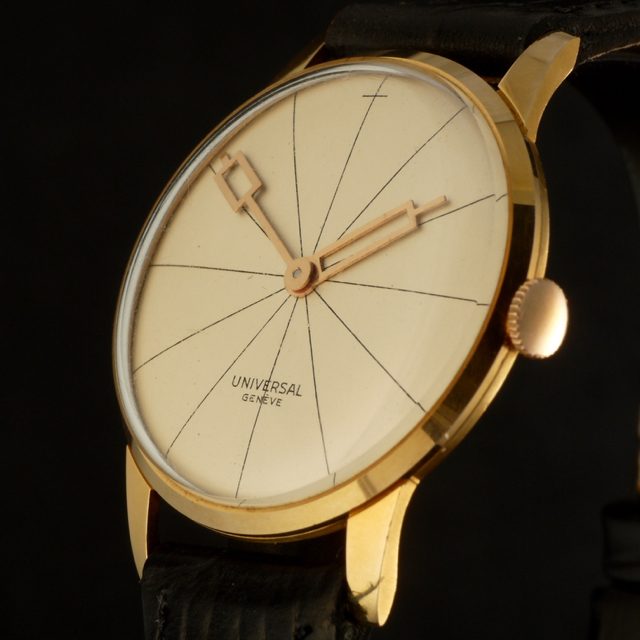 1953
Universal Extra-flat
Pulitzer Prizes, Fiction: The Old Man and the Sea, Ernest Hemingway
1953 Universal Geneve extra-flat ref. 18815-1, 33mm gold case.
Universal Geneve gold extra-flat case, and fantastic dial and hands set. Extra-flats is not my favorite type of watch but this one is a keeper, I dont know much about this model, I never saw it before. I would say its was designed by the genius Gerald Genta.
From the mid-1940s until the late 1960s, the most beautiful timeless and iconic watches were created. These pieces still feel contemporary and fashionable today.
Founded in 1894 Universal watches are highly disputed among collectors especially for their classic chronographs.
Shortly before the beginning of World War II Universal seized an opportunity to create two wristwatch models: the Compur (in 1933) and the Aero-Compax (in 1936).
In 1941 Universal inaugurates a new ultra-modern production site, built within less than six months to make the new Aero-Compax chronometer for pilots along with other chronometer models, three years later the Universal Tri-Compax was introduced at Basel Watch Fair for the companys 50th anniversary.
Universal also collaborated with the French fashion brand Hermes and designed a series of chronographs named Pour Hermes. Incidentally, Hermes was responsible for being the major sales hub for Universal in Europe until the 1950s. Twenty years later, the company was one of the few to introduce the quartz movement, which led to automatic watches.
The most notable changes occurred to the 60s Compax, with the use of a water-resistant-type case with screw back cases, as opposed to the early models with snap-on case backs. These water-resistant cases had round pushers (early models had square-shaped pushers).