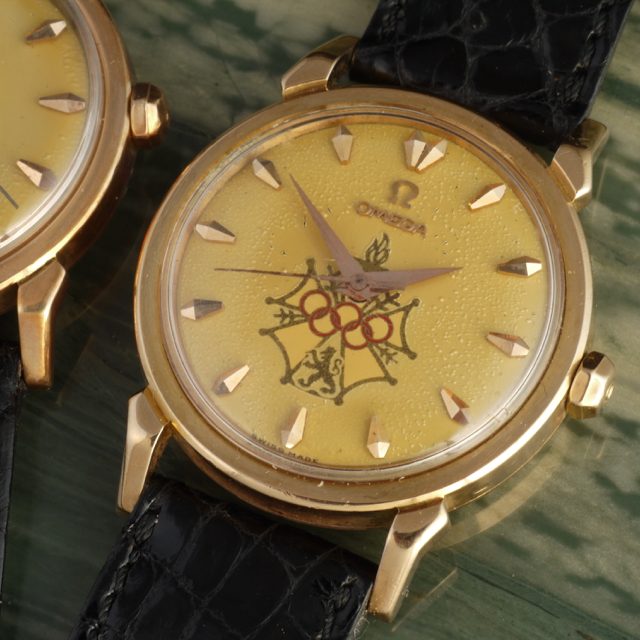 1956
Omega Seamaster XVI Olympic Cross of Merit
Felix Wankel (Germany) develops the rotary internal combustion engine
1956 Omega Seamaster Cross of Merit XVI Olympic Games, ref. OT2850, automatic movement cal. 471. This is a very rare and hard to find piece.
It was made to celebrate Omega's 25 years being the official timekeeper of the Olympic Games, with a beautiful "Cross of Merit" lacquered china dial made by Z.J. Fluckiger, one of the specialist dial makers used by Omega at the time, with only around 100 made. This model served as an inspiration for the Seamaster of the XXIX Olympiad Beijing in 2008.
Launched in 1948 to coincide with the brand's 100th anniversary, the Omega Seamaster line is the oldest in the current collection. Loosely based on the waterproof wristwatches made for the British military at the end of World War II, the Seamaster was first intended as a robust yet elegant watch for active individuals who wanted a watch for town, sea and country.
The Seamaster's first diving-record was achieved in 1955, when diver Gordon McLean reached a depth of 62.5 meters in Australia.
The key to these watches was the O-ring rubber gasket. At this time, water-resistant watches generally used lead or shellac gaskets which were susceptible to temperature changes. The engineers at OMEGA were so sure of the Seamaster that one flew the Polar Route over the North Atlantic attached to the outside of a Douglas DC6 aircraft in 1956.
I consider the Seamaster two lines in one: the big, heavy Professional, designed for divers for deep diving, and a dress range also made by Seamaster.
Omega was founded in 1848 by Louis Brandt at the age of 23. The brand's reputation grew fast and in 1895 the watches achieved a precision of 30 seconds a day.
By the turn of the 19th century Omega was one of Switzerland's largest watch companies with 240,000 watches produced annually and employing 800 people.
Omega made its debut in sports during the Gordon Bennett international ballooning Cup in 1917; since then Omega has gone on to be the official timekeeper at 21 Olympic Games.
In 1936 Omega set the remarkable World precision record of 97.8 points at the Kew-Teddington observatory in England.
In 1957, with motorsport in mind, Omega launched the Speedmaster, which in 1965 was chosen by NASA as its official chronometer in Space. Four years later the Moonwatch was the first watch to be worn on the Moon, when on 21st July 1969 Neil Armstrong made his giant leap for mankind. Currently Omega belongs to the Swatch Group.