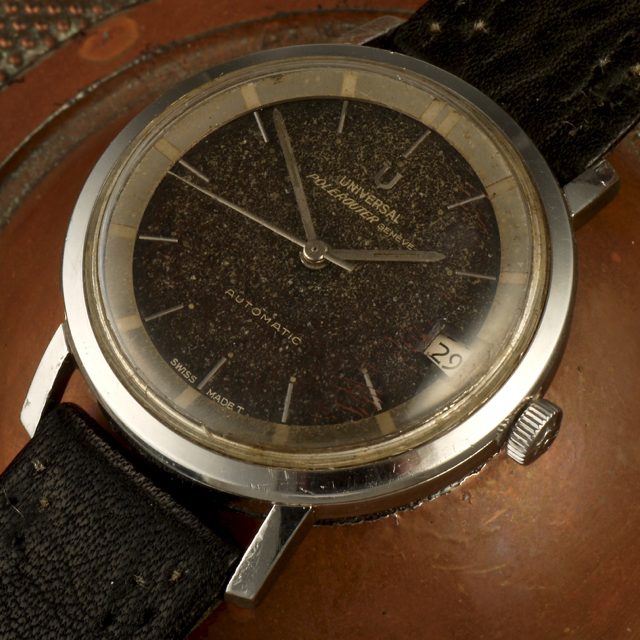 1956
Universal Polerouter
Felix Wankel (Germany) develops the rotary internal combustion engine
1956 Universal Polerouter Geneve.
A flaw in the manufacturing process resulted in the occasional fading of the dial to a shade of brown, described as tropical dial or chocolate. Long sought after by collectors, read here my article about tropical dials here.
Gerald Genta, the best watch designer
ever designed

the Universal Polerouter. It had many variations like Polerouter Jet, Polerouter Date and Polerouter NS and was the favorite model of the Scandinavian pilots who flew over the Arctic. Because of its durability in harsh

conditions, extreme

low temperatures and fluctuating

attitudes

. In 1961 Universal presented the Polerouter Sub.

The Swiss designer is responsible for some of the industry's most iconic and long-lastingdesigns, among them the Royal Oak, created overnight, the Nautilus, and the Ingenieur SL. But beyond his best-known designs, Genta has also led an illustrious career quietly contributing to the portfolios of countless firms like Rolex, Omega, Seiko, Benrus, Hamilton, and even Timex.

From the mid-1940s until the late 1960s, the most beautiful, timeless and iconic Chronographs came to the market. These watches still feel contemporary and fashionable today.

Universal watches Originate in 1894 and they highly disputed among collectors, especially for their classic chronographs. Universal Watch was amongst the first to recognize the enormous potential of wristwatches and chronographs in particular. The brand "Universal Watch" profited from rapidly growing reputation in Europe and the two Americas. The company changed to "Universal Watch Co Ltd. Genve" in 1934. During the same year, the first chronograph wrist-watch with two push-buttons were presented.

Shortly before the beginning of World War II Universal seized an opportunity to create two wristwatch models.
1: The Compur (in 1933) and 2: The Aero-Compax (in 1936).
In 1941 Universal inaugurates a new ultra-modern production site. Built within less than six months to make the new Aero-Compax chronometer for pilots along with other chronometer models. Three years later the Universal Tri-Compax introduced at the Basel Watch Fair for the company's 50th anniversary.
Universal also collaborated with the French fashion brand Hermes and designed a series of chronographs named Pour Hermes. Incidentally, Hermes was responsible for being the major sales hub for Universal in Europe until the 1950s. Twenty years later, the company was one of the few to introduce the quartz movement, which led to automatic watches.
The most notable changes occurred to the 60s Compax, with the use of a water-resistant-type case with screw back cases, as opposed to the earlier models with snap on case backs. These water-resistant cases had round pushers (early models had square-shaped pushers).
Today, the Universal belongs to the Stelux group bought the company and the brand Universal.