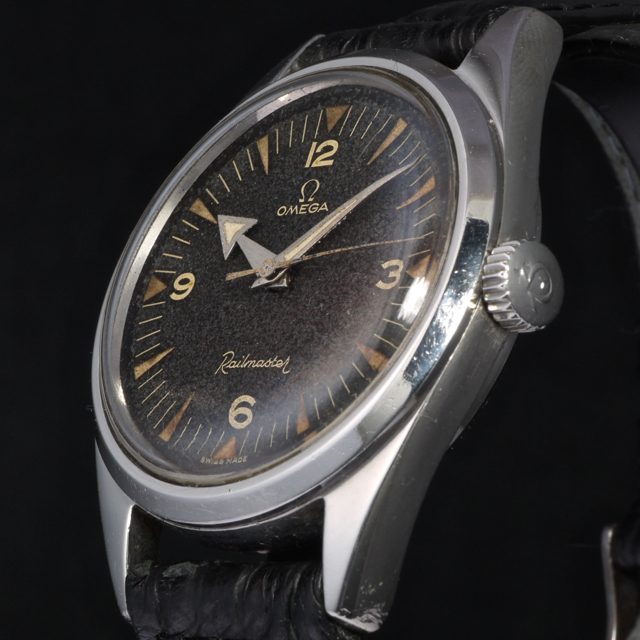 1957
Omega Railmaster
The USSR tests its first successful ICBM - guided missile with a minimum range of more than 5,500 kilometres primarily designed for nuclear weapons delivery
1957 Omega Railmaster ref. CK 2914, 38mm. case, manual winding movement cal. 20 SC T4-284.
The Railmaster was first introduced in the year 1957, it was the first watch that was designed by Omega specifically for railway employees, scientists, technicians and electricians as well as all other professions who worked with or in the vicinity of strong electric currents.
The key to its anti-magnetism is a double-constructed case. It has a stainless steel outer case and a Mu-metal inner plate creating a Faraday cage that protects the movement. The case measures 38mm with a screw-in case back. The piece also comes with an armored Hesalite crystal.
The Railmaster was Omegas answer to other anti-magnetic watches already on the market, such as the Rolex Milgauss released in 1954 and IWC's Ingenieur released in 1955.
The Railmaster uses a Naiad crown, which Omega also used on the Seamaster and Speedmaster. The crown further improves on the water resistance of the piece as the crown further seals as the pressure increases. A Naiad crown can be easily identified by the symbol inside the Omega logo that looks like a Y.
Due to its short production (1957 to 1963) and limited pieces produced, it is one of the most collectible pieces today.
In 2003 a revised re-edition of the classic Omega Railmaster was launched. It was equipped with the high-quality movement with coaxial escapement, developed at the end of the 90s. The Omega Railmaster is no longer produced.
Omega was founded in 1848 by Louis Brandt at the age of 23. The brand's reputation grew fast and in 1895 the watches achieved a precision of 30 seconds a day.
By the turn of the 19th century Omega was one of Switzerland's largest watch companies with 240,000 watches produced annually and employing 800 people.
Omega made its debut in sports during the Gordon Bennett international ballooning Cup in 1917; since then Omega has gone on to be the official timekeeper at 21 Olympic Games.
In 1936 Omega set the remarkable World precision record of 97.8 points at the Kew-Teddington observatory in England.
In 1957, with motorsport in mind, Omega launched the Speedmaster, which in 1965 was chosen by NASA as its official chronometer in Space. Four years later the Moonwatch was the first watch to be worn on the Moon, when on 21st July 1969 Neil Armstrong made his giant leap for mankind. Currently Omega belongs to the Swatch Group.