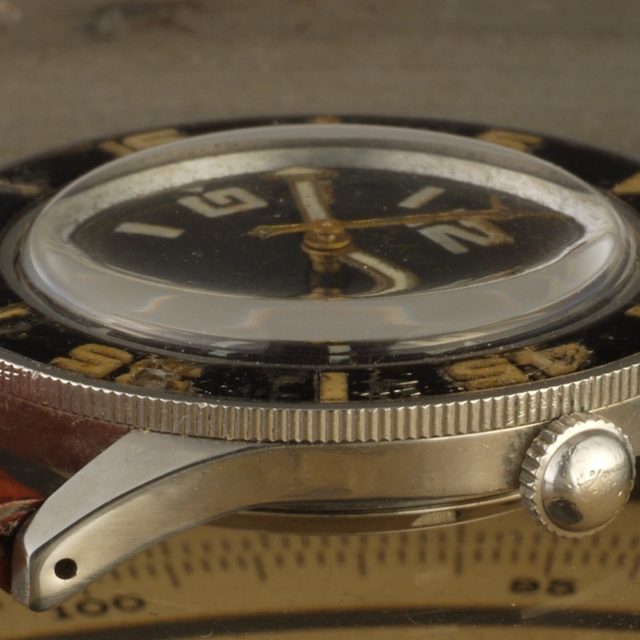 1959
Eska Fifty Falthons 600
The Lunik II probe (USSR) reaches the moon; Lunik III photographs the dark side of the moon for the first time
1959 rare Eska Fifty Fathoms 600 power reserve indicator, Bakelite bezel, this watch is inspired in the Blancpain Fifty Fathoms, father of the original Divers watch.
Eska is one of the smallest watch brands. After the end of World War I many watch manufacturers appeared in Europe and Sylvan Kocher & Cie. was of them. The name Eska is the phonetic spelling in French of the letter s and k (es-ka). The wristwatches of the brand included manual and automatic models, besides models with full calendars and digital time displays.
The first ever specialized diving watches were the Panerai, used by the Italian frogmen in the Second World War. Actually they were Rolex 3646s with special dials made by Panerai.
Right after WWII, two French combat diving corps started to search for a military grade diving watch, big and easy to read underwater, hermetically sealed and capable to absorb shocks – this helped Blancpain to develop the legendary Fifty Fathoms introduced in 1953. The transformation of the simple water resistant watch to the tool diver watch happened at that exact point. The next year Rolex launched perhaps the most famous diver watch of them all, the Rolex Submariner; from that point most of the Swiss companies started to shift their attention towards the sea, trying to produce reliable underwater-capable wristwatches.