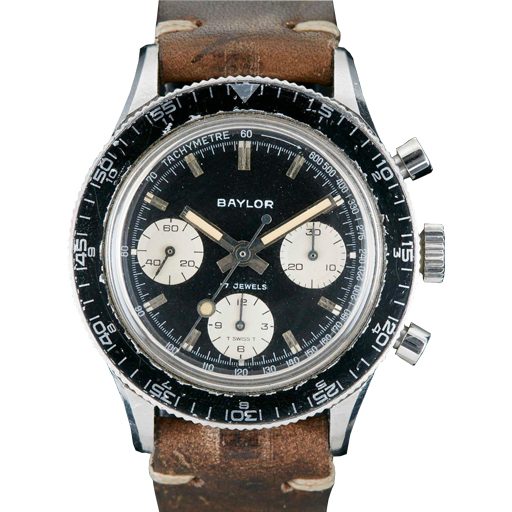 1960
Baylor Chronograph
American U-2 spy plane, piloted by Francis Gary Powers, shot down over Russia (May 1).

1960 Baylor Chronograph
With a steel case of approximately 38mm in diameter (excluding crown), Baylor Chronograph was chosen by Zales Jewelers as the in-house brand for many of their watches in the late 1960s into the 1970s.
Rumor has it that Heuer sold a large number of manual winding chronographs to Zales as Heuer switched to automatically winding watches in the 1970s.
This Baylor Chronograph contains everything we love about early chronographs. Plus the standout tropical dial, so which really sets this one apart from other examples.
In the late 1960s, during Heuer's heyday as the premier provider of chronographs for racing drivers under its own name. It manufactured watches for other brands and retailers as well. Brands like Zodiac, Tradition, and Clebar are well-known examples of Heuer's manufacturing efforts. But Baylor is one name that has largely escaped attention.
Baylor branded watches used many of the same parts as the Heuer Autavias and Carreras. It is even rumored that as Heuer began to shift its focus toward automatic chronographs with new cases and dials. Zales was able to snatch up parts for pennies on the dollar.
Baylor isn't a name that many collectors of vintage chronographs would know and it's certainly not likely to be the first name one would come to in a conversation about Heuer. The ranges of chronographs they produced throughout the 1960s and 70s for other brands.
Referred to as "Poor Man's Heuers," these chronographs shared many of the same parts and all the same looks as the now popular and collectible Heuer counterparts.
Based on the earlier Heuer Autavia (ref. 2446), this watch has the same barrel-style 38mm steel case with screw case back and pump pushers. Aesthetically, all the hallmarks of the Autavia are there: the panda dial, the rotating MH (minutes/hours) bezel, and inner tachymeter track.
Submitted by:  Analog Shift