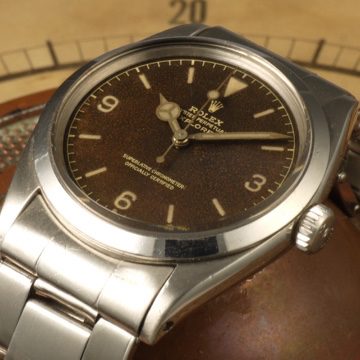 1960
Rolex Explorer I
The first working laser is built by T. H. Maiman
1960 Rolex Explorer ref. 1016 tropical gilt chapter ring dial.
A flaw in the manufacturing process resulted in the occasional fading of the dial to a shade of brown, described as tropical dial or chocolate. Long sought after by collectors.
Rare gilt-glossy and chapter ring dial. The 3-6-9 dial with Mercedes hands is the signature of the Explorer.
Rolex Explorer history began when Tenzing Norgay stepped onto the summit of Mount Everest alongside Edmund Hillary with a Rolex Explorer strapped to his wrist (although the watch did not yet bear this name). As one of the first watches to reach Everests peak, the Explorer quickly became synonymous with the extreme climb. In later expeditions, Rolex was always the official supporter, equipping climbers with their own Explorers, cementing the history of the Rolex Explorer as the watch of choice for mountain climbers and other adventurers.
For 57 years, the Rolex Explorer had always been manufactured in the 36mm. diameter. In this age of rising wrist watch sizes, Explorer model reference 214270 has deviated traditional measurements by 3 points up to 39mm. at Baselworld 2010. Personally, I dont like the new size because, by keeping the inner lugs at a 20mm. distance, the Explorer lost its perfect proportions.
Rolex was founded in 1905, the goal was to create wristwatches based on 3 challenges.
The first challenge was archived in 1910 when Rolex sent its movement to the School of Horology in Bienne and awarded the world's first wristwatch chronometer rating.
Realizing the value of a timing certificate, the company decided they would not accept any movement unless it passed a Rolex seven-day battery of tests, so Rolex set the timing standard for the rest of the watch industry.
In 1926 the second challenge was achieved with the birth of the Oyster, so-named as it was as impenetrable as an oyster! Although this invention was initially thought of with skepticism and took some notable events to break this preconception, one year later Mercedes Gleitze swam across the icy waters of the English Channel wearing a Rolex Oyster on her wrist.
All three challenges were completed in 1931 when Rolex launched the first automatic watch. The idea was not new, but it was Rolex that finally perfected and patented the Perpetual self-winding mechanism.
Now the scene was set. Rolex was now producing a watch small enough to be worn on the wrist, impervious to outside elements and which required no winding from the wearer; the Rolex Oyster Perpetual.
Forbes ranked Rolex No.72 on its 2014 list of the worlds most powerful global brands. Rolex is the largest single luxury watch brand, producing about 2,000 watches per day, with estimated 2012 revenues of US$7.7 billion. Rolex SA is owned by the private Hans Wilsdorf Foundation, which is registered as a charity and does not pay corporate income taxes.