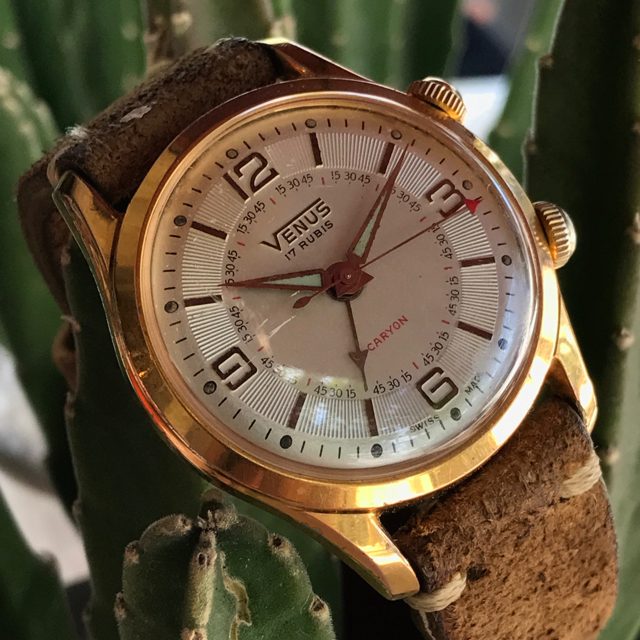 1960
Venus Caryon alarm
Ninety percent of U.S. homes have a television set
1960 Venus Caryon alarm manual winding cal. 230.
Venus was established in 1923 in Moutier, Bern Canton, Switzerland. It was quickly absorbed into Ebauches SA in 1928 and produced its first chronograph movement, Cal. 103, in 1933. Venus movements are marked with a five-pointed star.
Venus became famous for chronograph movements, many of which were used by high-end Swiss brands. The Venus column wheel chronograph calibers are widely regarded today as being the finest ever produced and remain in great demand. Among these are the Cal. 170, Cal. 175, Cal. 178, and Cal. 179, a three-pusher split-seconds chronograph movement.
Venus also produced cam switching movements. The Venus 180/190/200 series were all cam-switched. But these low-cost movements did not provide sufficient liquidity and Venus was absorbed by rival Valjoux in 1966. The then-new Venus 188 movement was the basis for the Valjoux 7730 and its technology lived on in the Valjoux 7750, still one of the most popular chronograph movements.
Old stock of Venus movements has been depleted in recent years, leading to a run-up in prices for watches with these movements. Jaquet SA became an expert at refinishing Venus calibers and, under the new name La Joux-Perret, has built up the capability to re-create parts and even entire movements if needed.
watch Submitted by Celso Gonanvez.