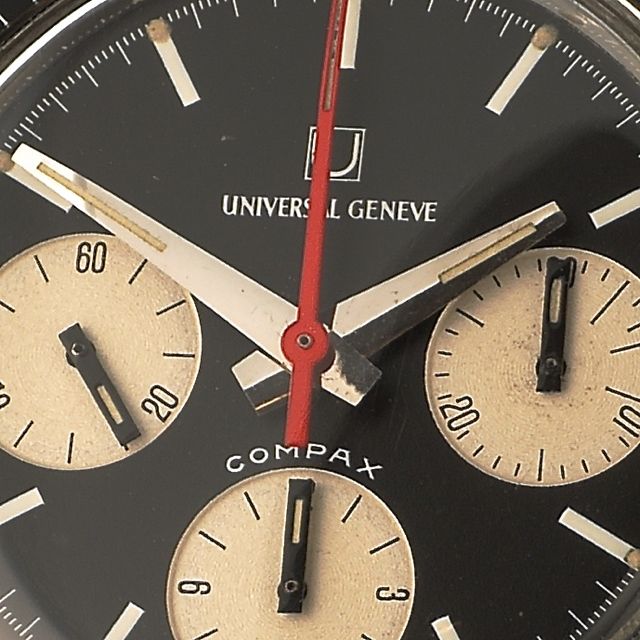 1964
Universal Compax
Psychedelic bands such as The Grateful Dead and Jefferson Airplane enjoy great success with songs celebrating the counterculture of the '60s
1964 Universal Compax ref. 885103/01, this is a kind of reversed Nina Rindt "Evil Nina", it had to feature these needles and chrono second hand with lume that I love. 36mm case, Valjoux 72 movement, the one with the withe dial and black sub dial is the original Nina Rindt.
From the mid-1940s until the late 1960s, the most beautiful timeless and iconic Chronographs were created. These watches still feel contemporary and fashionable today. The most notable changes occurred to the 60's Compax, with the use of a water-resistant-type case with screw back cases, as opposed to the early models with snap on case backs. These water-resistant cases had round pushers (early models had square-shaped pushers).
The Valjoux 72 is a three register column wheel manual wind chronograph movement which traces its origins back to the 1930s. The V72 was used in the Daytona Paul Newman and many other high end watches, but also in some lesser known brands; expect to pay a premium price for watches with this rare and celebrated movement.
Alone, it is worth more them US$500, often used as spare parts for more expensive watches, and I go further, an unmarked Valjoux 72 can be signed and turned into a Rolex, Breitling, Heuer, Jaeger and others, so be careful with identification.
Founded in 1894 Universal watches are highly disputed among collectors especially for their classic chronographs.
Shortly before the beginning of World War II Universal seized an opportunity to create two wristwatch models: the Compur (in 1933) and the Aero-Compax (in 1936).
In 1941 Universal inaugurates a new ultra-modern production site, built within less than six months to make the new Aero-Compax chronometer for pilot's along with other chronometer models, three years later the Universal Tri-Compax was introduced at Basel Watch Fair for the company's 50th anniversary.
Universal also collaborated with the French fashion brand Hermes and designed a series of chronographs named Pour Hermes. Incidentally, Hermes was responsible for being the major sales hub for Universal in Europe until the 1950s. Twenty years later, the company was one of the few to introduce the quartz movement, which led to automatic watches.