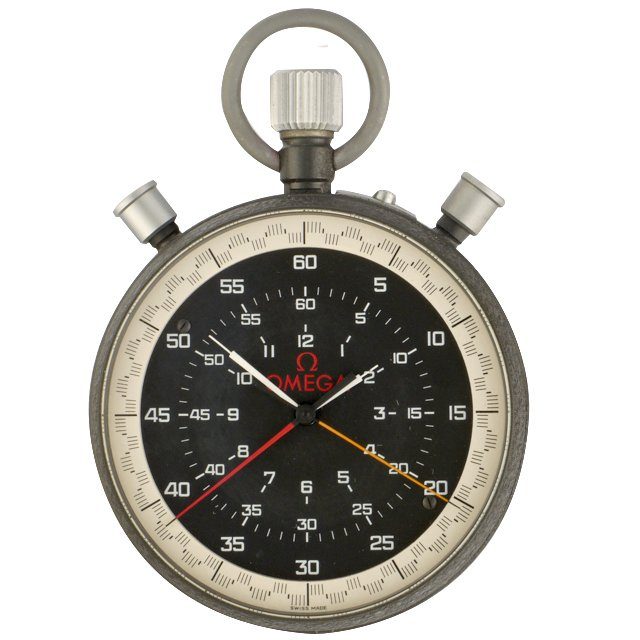 1965
Omega rattrapante sports chronograph
The first US combat troops arrive in Vietnam. By the end of the year, 190,000 American soldiers are in Vietnam
1965 Omega rattrapante split-second sports chronograph cal. 1520, non-slip black Nuit spatiale enamel coated 65mm. case, accompanied by the fitted red plastic case with neck strap.
Center one revolution in 60-seconds split chrono hands + center 60-minute and 12-hour chrono hands, 35 hour power reserve.
It was a expensive high-end tool used by professionals. The girl in the photo is Nina, 1970 F1 champion Jochen Rindt's wife.
Omega was founded in 1848 by Louis Brandt at the age of 23. The brands reputation grew fast and in 1895 the watches achieved a precision of 30 seconds a day.
By the turn of the 19th century Omega was one of Switzerland's largest watch companies with 240,000 watches produced annually and employing 800 people.
Omega made its debut in sports during the Gordon Bennett international ballooning Cup in 1917; since then Omega has gone on to be the official timekeeper at 21 Olympic Games.
In 1936 Omega set the remarkable World precision record of 97.8 points at the Kew-Teddington observatory in England.
In 1957, with motorsport in mind, Omega launched the Speedmaster, which in 1965 was chosen by NASA as its official chronometer in Space. Four years later the Moonwatch was the first watch to be worn on the Moon, when on 21st July 1969 Neil Armstrong made his giant leap for mankind. Currently Omega belongs to the Swatch Group.