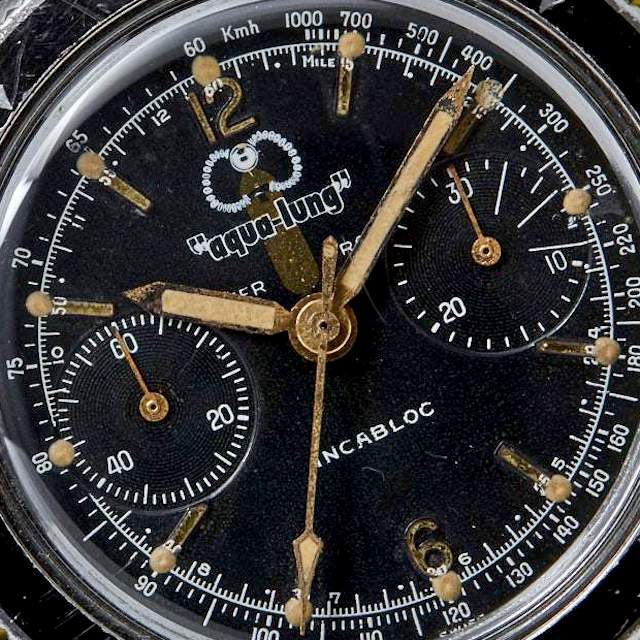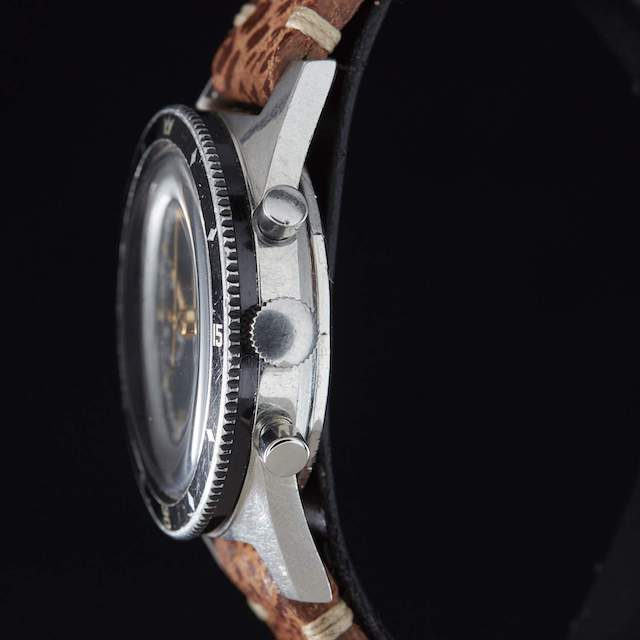 1966
Aqualung 666 Diving Chronograph
MIT biochemist Har Khorana finishes deciphering the DNA code.
1966 Aqualung 666 Diving Chronograph ref. , Calibre 248
This Aqualung 666 Diving Chronograph has stainless steel contract case is 37mm, Manuall Wound Chronograph movement.
Known as 666 for the last three digits on the case, capped by a black rotating bezel. But the dial holds the secret to what beats inside: a Landeron Calibre 248 chronograph movement, beloved by many divers, specially for being a Aqualung.
The advent of the Aqualung Self Contained Underwater Breathing Apparatus (SCUBA) made skin-diving as a sport much more accessible to lovers of the sea. It was developed by the patron saint of SCUBA divers himself: Jacques Cousteau.
By 1946 the Aqualung was being sold in France to commercial and amateur divers, and by the 1950s it was available in the US and Great Britain. Its portability and the relative ease it brought to breathing underwater allowed more and more people to pursue the sport.
Soon Cousteau formed a company, U.S. Divers, for distribution of Aqualung and other branded merchandise.
Alongside fins, masks, and regulators, U.S. Divers also sold Aqualung branded watches, with the Aqualung unmistakeable logomeant to resemble a tank of compressed air with twin hoses typical of Cousteaus Aqualung design.
Using the same A. Schild contract case that was used by brands from Blancpain on down, these watches also used the sturdy, no-nonsense A. Schild/Felsa Calibre 4004 movement found in Blancpains acclaimed Fifty Fathoms. The only chronograph being the Aqualung 666 Diving Chronograph.
Very few of these Aqualung 666 Diving Chronograph models exist to this day, or have survived more or less intact, making them relatively rare. Though exact quantities are unknown, experts believe that the watch was only produced for one year. Some suppose that it might have been released as a trial run that never went to full production.
Uncommon and undeniably attractive, it offers the collector a rarely-seen diving chronograph with a sterling diving pedigree.
Submitted by Analog Shift.