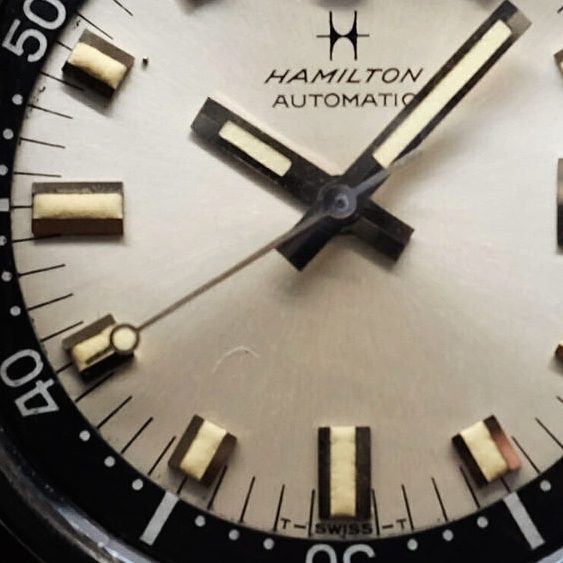 1966
Hamilton Super Compressor 600
MIT biochemist Har Khorana finishes deciphering the DNA code
1966 Hamilton Super Compressor 600 ref. 64040-3.
The Super Compressor watch case was patented in 1956 and manufactured by Ervin Piquerez SA (EPSA) for almost two decades. Most of the Super Compressors can be identified by their twin crowns and internal rotating timing ring.
The name actually referred to the cases sealing technology, which made use of a spring-loaded case-back that sealed tighter as external water pressure increased. EPSA's logo was a stylized diving helmet and could be found either on the outside or inside of the case-back. The crowns are typically cross-hatched, oversized and thick, making it easier to operate them under water.
Over 100 different brands used one of the many variations of SC cases. Some notable brands used the dual crown design, including: Jaeger leCoultre, Longines, Universal Geneve, IWC and Blancpain.
The first ever specialized diving watches were the Panerai, used by the Italian frogmen in the Second World War. Actually they were Rolex 3646s with special dials made by Panerai.
Right after WWII, two French combat diving corps started to search for a military grade diving watch, big and easy to read underwater, hermetically sealed and capable to absorb shocks this helped Blancpain to develop the legendary Fifty Fathoms introduced in 1953. The transformation of the simple water resistant watch to the tool diver watch happened at that exact point. The next year Rolex launched perhaps the most famous diver watch of them all, the Rolex Submariner; from that point most of the Swiss companies started to shift their attention towards the sea, trying to produce reliable underwater-capable wristwatches.
The Hamilton Watch Company was an American company that was incorporated in 1892. In 1971 it became the third company of what was later to become the Swatch Group, the worlds largest watch manufacturer and dealer.
During the expansion of the railroads in the U.S., Hamilton maintained over 56% of the market. Railroads purchased all of Hamilton's production. As the market switched from pocket watches to wrist watches after World War I, the company manufactured wrist watches.
During World War II, Hamilton retooled its business model to serve the military and production of consumer watches was stopped. With all watches manufactured being shipped to troops, more than one million watches were sent overseas.
The company also was extremely successful in producing Marine Chronometers and Deck watches in large numbers to fill the needs of the United States Navy, and other allied navies.
submited by C. Robinson.