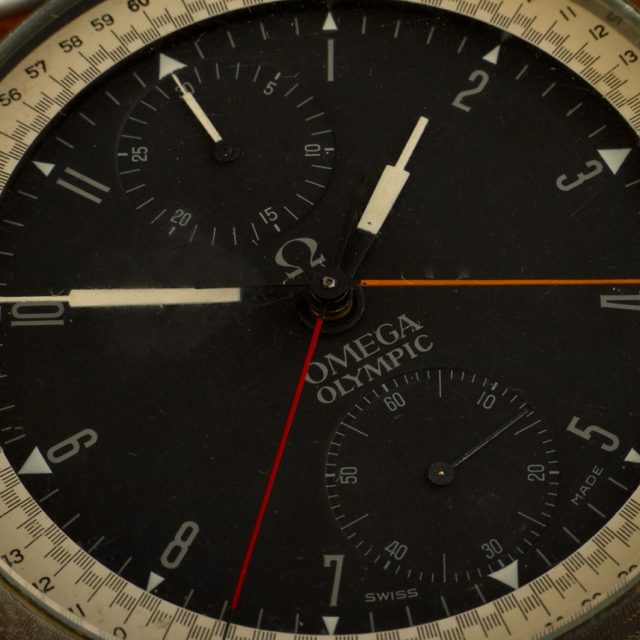 1966
Omega Olympic Nuit spatiale
MIT biochemist Har Khorana finishes deciphering the DNA code
1966 Omega Olympic "Nuit spatiale" pocket watch with split-seconds chronograph and 30-minute register, non-slip black enamel coated 66mm. case, ref. MG 6713.
Made in a small series for the Pan American Games at Winnipeg (Manitoba, Canada).
Cal. 1131, gilt brass, 21 jewels, straight line lever escapement, mono-metallic balance, self-compensating Breguet balance spring, swan-neck micrometer regulator. Dial, case and movement signed. Diam. 66 mm.
Omega was founded in 1848 by Louis Brandt at the age of 23. The brands reputation grew fast and in 1895 the watches achieved a precision of 30 seconds a day.
By the turn of the 19th century Omega was one of Switzerlands largest watch companies with 240,000 watches produced annually and employing 800 people.
Omega made its debut in sports during the Gordon Bennett international ballooning Cup in 1917; since then Omega has gone on to be the official timekeeper at 21 Olympic Games.
In 1936 Omega set the remarkable World precision record of 97.8 points at the Kew-Teddington observatory in England.
In 1957, with motorsport in mind, Omega launched the Speedmaster, which in 1965 was chosen by NASA as its official chronometer in Space. Four years later the Moonwatch was the first watch to be worn on the Moon, when on 21st July 1969 Neil Armstrong made his giant leap for mankind. Currently Omega belongs to the Swatch Group.