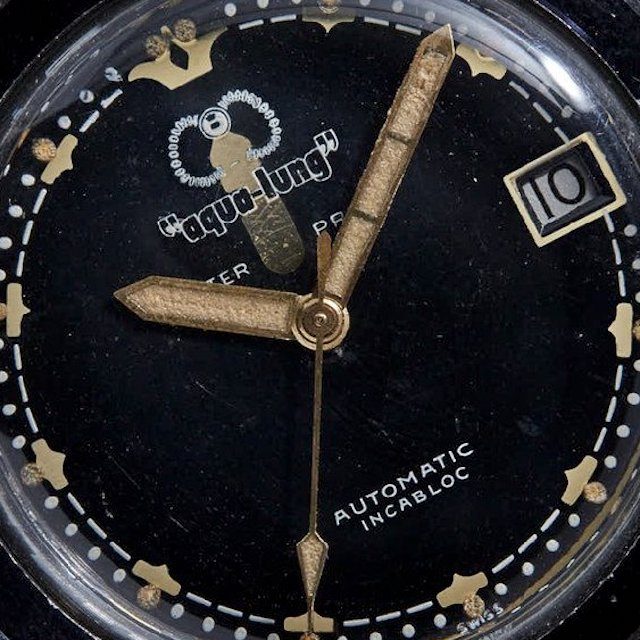 1967
Aqualung 666 Diver Watch
Israeli and Arab forces battle; Six-Day War ends with Israel occupying Sinai Peninsula, Golan Heights, Gaza Strip and West Bank (June 5).
1967 Aqualung 666 Dive Watch Calibre 4004
Aqualung branded watches are highly sought after by diving enthusiasts and tool watch fanatics alike and the crowning glory of this Aqualung 666 Dive Watch 37mm with stainless steel case, A. Schild/Felsa Calibre 4004, is its gorgeous radium dial, with plots of Radium luminescent material and large stylized hands.
The history of Aqualung begins in 1943, at the height of World War II, with the advent of the Self Contained Underwater Breathing Apparatus (SCUBA), developed by none other than Jacques Cousteau, at that time a young lieutenant in the French Navy, and his colleague, Emile Gagnan. The equipment made skin-diving as a sport much more accessible to lovers of the sea. Gagnan and Cousteau patented their invention, calling it the Aqualung.
By 1946 the Aqualung was being sold in France to commercial and amateur divers, and by the 1950s it was available in the US and Great Britain.
Before electronic diving computers, watches were a crucial tool for divers, who require them to calculate dive and decompression times. This necessitated the development of specialized, easy-to-read watches with waterproofing that would hold up under the increased pressures of depth underwater.
Though perhaps best-known with their association with Blancpain and DOXA, Aqualung also marketed contract-built watches under its own name alongside the diving equipment sold in its catalogs and dive shops.
These divers (known as Skin 666 from the last three digits in the number on the case back) used contract cases manufactured by A. Schild, with thick beveled lugs and handsome brush finishing throughout. powered by the sturdy, no-nonsense A. Schild/Felsa Caliber 4004 movement.
Aqualungs reputation for their contributions to the diving industry is well-deserved, and this watch is a testament to the brands quality.
Submitted by Analog Shift.