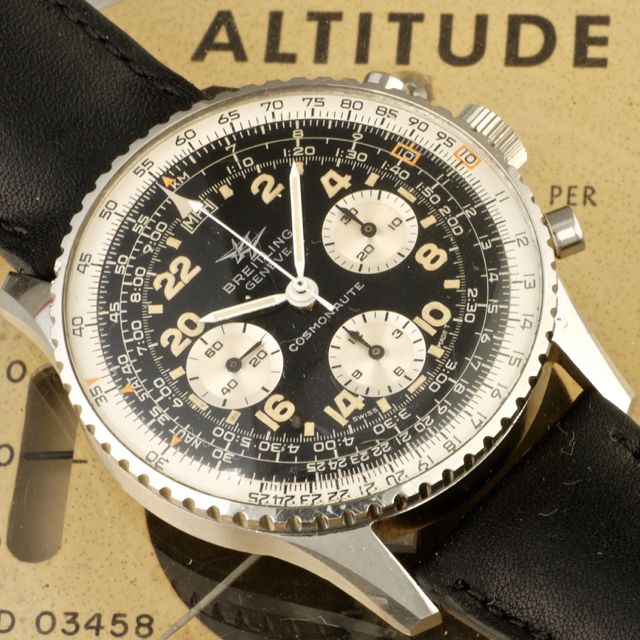 1967
Breitling Cosmonaute
Israeli and Arab forces battle; Six-Day War ends with Israel occupying Sinai Peninsula, Golan Heights, Gaza Strip and West Bank
1967 Breitling Cosmonaute ref. 809, 24 hour dial.
In 1959, the astronaut Scott Carpenter suggested to Breitling that they develop a Navitimer that incorporated a 24-hour dial instead of the normal 12-hour dial. The reason is that there's no day and night like we have on Earth, so its really complicated for the human body to adapt itself to this new situation. The 24-hour dial could help the astronaut to have a time measure. In 1962, Carpenter orbited the Earth three times wearing his Breitling Cosmonaute.
The iconic Navitimer remains near the top of virtually every vintage watch collectors wish list. The internal rotating bezel is a slide-rule navigation computer which makes complex mathematical calculations useful to pilots. Jerry Seinfeld, Graham Hill, Jim Clark, Miles Davis all wear (or wore) a Breitling Navitimer 806 with black & white dial.
The Navitimer was chosen as the official timepiece of AOPA, Aircraft Owners and Pilots Association, something which Breitling has traded on ever since. A 24-hour dial version, the Cosmonaute, was also produced in the early 60s.
The first generation Navitimer came in the early 50s, they had Arabic numerals, black dials and sub-dials. The second generation shows silver sub-dials and index instead of numbers. Many early Navitimers didn't have the Breitling logo but the AOPA wing on the dial. Some rare dials show the AOPA wings and the letter B instead of the Breitling logo.
Breitling has been a leading innovator in high quality stopwatches and chronographs and helped define how chronographs look and function until today.
Breitling launched the first wrist chronograph with a pusher at 2:00 in 1915, presented the first dual pusher wrist chronograph with pushers at 2:00 and 4:00 in 1933 and was one of the first manufacturers to recognize the need of early aviators for wrist watches incorporating such devices.
In 1942 Breitling introduced the Chronomat, the worlds first Smart Watch, a chronograph with a rotating logarithmic slide rule that allowed complex calculations with the turn of your fingers.
Throughout the 1930s to 50s, Breitling continued creating chronographs with different scales to suit different professions, such as tachymeters for production engineers and drivers, and pulsometers for doctors.