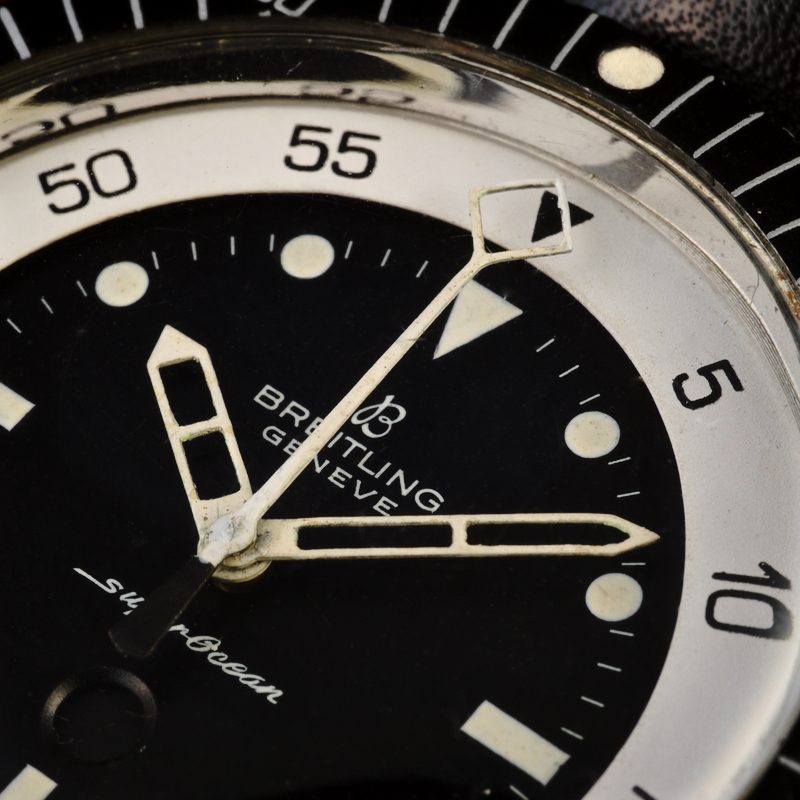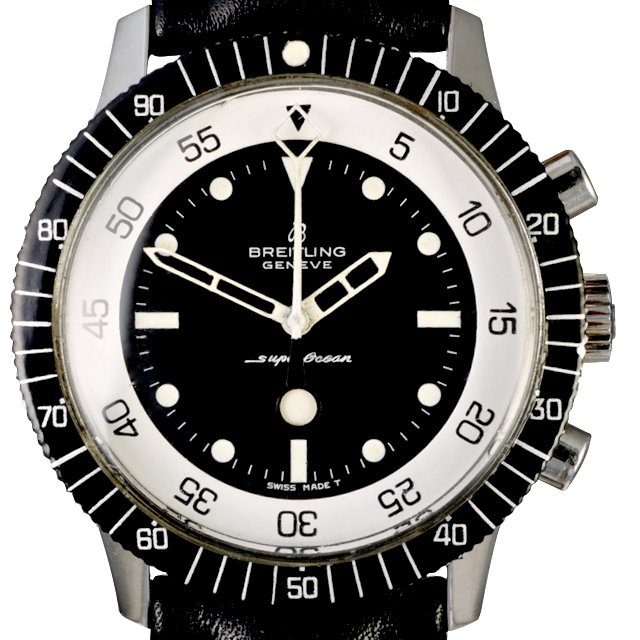 1967
Breitling Super Ocean
The MIRV, which allows one missile to carry several nuclear warheads, is developed
1967 Breitling Super Ocean ref. 2005, 40mm. case and 42.5mm bezel and double plane logo back.
Venus 188 movement specially in-house upgraded to a slow motion Dive Chronograph with a huge chrono seconds hand to count dive minutes, not seconds, and also with an activity indicator window at 6 that would make sure the diver doesn't accidentally pause the watch.
The first ever specialized diving watches were the Panerai, used by the Italian frogmen in the Second World War. Actually they were Rolex 3646s with special dials made by Panerai.
Right after WWII, two French combat diving corps started to search for a military grade diving watch, big and easy to read underwater, hermetically sealed and capable to absorb shocks this helped Blancpain to develop the legendary Fifty Fathoms introduced in 1953. The transformation of the simple water resistant watch to the tool diver watch happened at that exact point. The next year Rolex launched perhaps the most famous diver watch of them all, the Rolex Submariner; from that point most of the Swiss companies started to shift their attention towards the sea, trying to produce reliable underwater-capable wristwatches.
Breitling has been a leading innovator in high quality stopwatches and chronographs and helped define how chronographs look and function until today.
Breitling launched the first wrist chronograph with a pusher at 2:00 in 1915, presented the first dual pusher wrist chronograph with pushers at 2:00 and 4:00 in 1933 and was one of the first manufacturers to recognize the need of early aviators for wrist watches incorporating such devices.
In 1942 Breitling introduced the Chronomat, the worlds first Smart Watch, a chronograph with a rotating logarithmic slide rule that allowed complex calculations with the turn of your fingers.
Throughout the 1930s to 50s, Breitling continued creating chronographs with different scales to suit different professions, such as tachymeters for production engineers and drivers, and pulsometers for doctors.