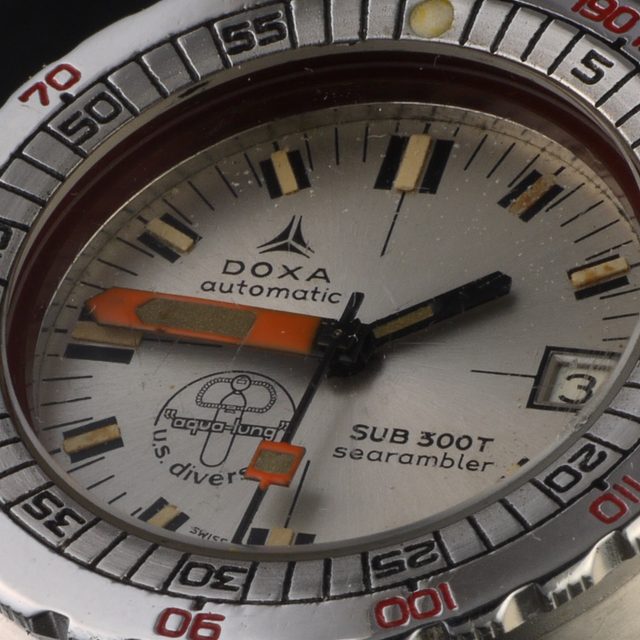 1967
Doxa Sub 300T Searambler
Israeli and Arab forces battle; Six-Day War ends with Israel occupying Sinai Peninsula, Golan Heights, Gaza Strip and West Bank
1967 Doxa Sub 300T Searambler U.S. divers Co. 38.6 x 42mm. case.
The Doxa company was founded in 1889 by Georges Ducommun. The ambitious 21 year-old craftsman created high quality timepieces, initially pocket watches often with exquisite hand-decoration, progressing to award-winning wristwatches as the company earned respect and success.
Under its founder the Doxa watch brand became an innovator within the industry when in 1908 he patented an 8-day watch movement. This pioneering mechanical movement was placed in a larger case making it the perfect timepiece for the latest new leisure pursuits of that time aviation and motor cars. One of the most famous names in motoring history, Bugatti used the Doxa 8-day movement instrument in the iconic Type 35 Bugatti.
The Doxa watch company came under the ownership of Jacques Nardin when its founder died in 1936. Nardin, the son-in-law of Georges Ducommun, was the grandson of another famous watchmaker, Ulysse Nardin. Having had a history of timekeeping within aviation and motor racing, Nardin sought to take the Doxa brand into a new niche that of the divers watch.
In the 1960s, Jacques-Yves Cousteau, a French naval officer, explorer, ecologist, filmmaker, scientist, photographer and researcher who studied the sea and all forms of life in water, co-developed the aqua-lung, and popularized diving as a sport. This was the time Doxa decided to add a dive watch to its wristwatch collection. In 1964 a research team with several professional divers and experienced Doxa watchmakers was formed to develop an affordable sports divers watch for both professional and recreational divers. The teams objective with this new dive watch was to make it reliable, comfortable, highly legible and an easy to use piece of equipment.
Soon after the introduction of the Sub 300T, the Swiss watch industry was hard-hit economically by the quartz watch revolution. Accurate, reliable and small timepieces could now be made without the mechanical movements that the Swiss specialized in constructing. In response, Doxa joined a group of Swiss watchmakers to consolidate resources. Doxa was purchased by the Jenny family of Switzerland. Since August 2002, Doxa has introduced re-editions of its well-known watches and timepieces in limited quantities. Many are faithful to their original models in design and construction, and all use Swiss movements (other parts may be non-Swiss).
Professional – refers to an orange faced dive watch
Sharkhunter – refers to a black faced dive watch
Searambler – refers to a silver (metallic) faced dive watch
Caribbean – refers to a blue faced dive watch
Divingstar – refers to a yellow faced dive watch
Conquistador – refers to a watch with a helium release valve
The first ever specialized diving watches were the Panerai, used by the Italian frogmen in the Second World War. Actually they were Rolex 3646s with special dials made by Panerai.
Right after WWII, two French combat diving corps started to search for a military grade diving watch, big and easy to read underwater, hermetically sealed and capable to absorb shocks this helped Blancpain to develop the legendary Fifty Fathoms introduced in 1953. The transformation of the simple water resistant watch to the tool diver watch happened at that exact point. The next year Rolex launched perhaps the most famous diver watch of them all, the Rolex Submariner; from that point most of the Swiss companies started to shift their attention towards the sea, trying to produce reliable underwater-capable wristwatches.