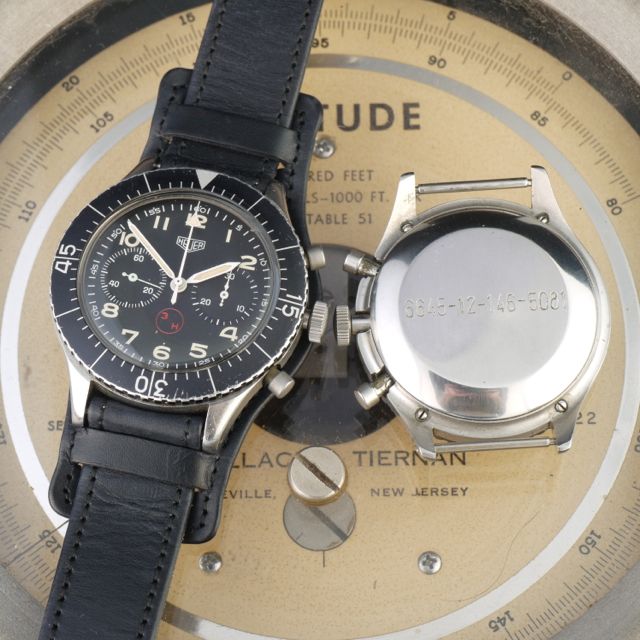 1967
Heuer Bundeswehr
The US and USSR propose a nuclear nonproliferation treaty
1967 Heuer Bundeswehr "Bunds" Fly-back. 43mm. case.
The Heuer Bundeswehr was produced by Heuer in the late 1960s early 70s for the West German Air Force. These fly-back chronographs known as Heuer Bunds are some of the most collectible and rare military watches.
The Bund also played a key role in the origins of another Swiss watch company: Sinn. Helmut Sinn gained a contract to service the watches for the German army and took the opportunity to swap the original Heuer dials with a Sinn logo replacement, much to Heuer's chagrin.
It all started in 1860, with Edouard Heuer setting up a workshop in Bernese, a predominantly French-speaking area of Switzerland close to the French border, a small town even now with a population under 5000. However, it is no stranger to watch companies, having also been where Breitling was founded and having been home to Longines. Of course, those companies were artisan workshops producing small numbers of mostly silver-cased pocket watches.
In 1914 Heuer made the first wristwatch for men, they used pocket-watch movements and reflected demand for wristwatches that would only increase during the First World War and after.
1920 was the first time in 8 years that an Olympic Games had been held, following the cancellation of the 1916 Berlin events. Heuer had some prominence as a sports timing company by this point and was pleased to be selected as the official timer of the Antwerp games. This was subsequently extended to the 1924 games in Paris and 1928 in Amsterdam: this cemented the brand marriage between timing and sports.
For today's collectors, the heyday for Heuer really began in the mid-1930s. I think that's also probably true for many other brands. Heuer began making pilots chronographs in 35. These were used by Air Force pilots primarily, a lot of them in the German Air Force. For most Heuer collectors, these pilot chronographs from around 1935 are the first real survivors that regularly can be found in the market today.
In the 1960s and 1970s, no brand was more prominent in motorsports timing than Heuer.