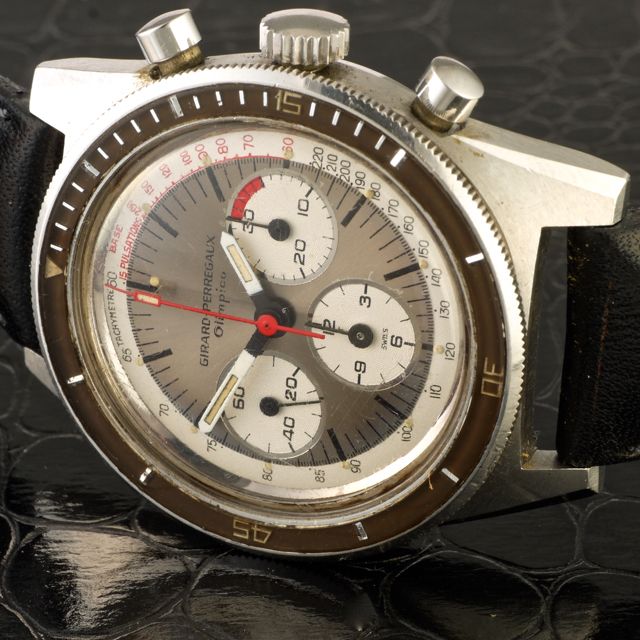 1968
Girard Perregaux Olímpico Chronograph
African-American protests reach a world-wide audience when two black athletes used a medal ceremony to protest about the lack of real civil rights in America
Girard-Perregaux Olimpico Chronograph was introduced for the 1968 Mexico City games. 37.6mm. case, inner tachymeter and pulsometer scales bi-directional Bakelite bezel.
In the year 1852 Constantin Othenin Girard founds the company Girard & Cie. Two years later he marries Marie Perregaux, and from the fusion of their names and through collaboration with Henri Perregaux
In 1920 years the company specializes in wristwatches. In 1930 for the first time more wristwatches than pocket watches are sold. 1940 the brand Girard-Perregaux is very successful both in Europe and America, especially with the waterproof model Sea Hawk. 1957 the self-winding movement with Gyromatic is presented to the public. Since 1989 also mechanical watch movements are produced again. Since Girard-Perregaux still builds its own movements into the watches, the company can count with full rights to the handful of reputable manufactures that exist today. 1992 the Italian entrepreneur, architect and former racing driver Luigi Macaluso takes over the management of the company.
A tachymeter scale measures how fast an object is moving. The scale can be found either on the dial or in the bezel. Most tachymeters start at 400 and end at 60, but some models can show different numbers.