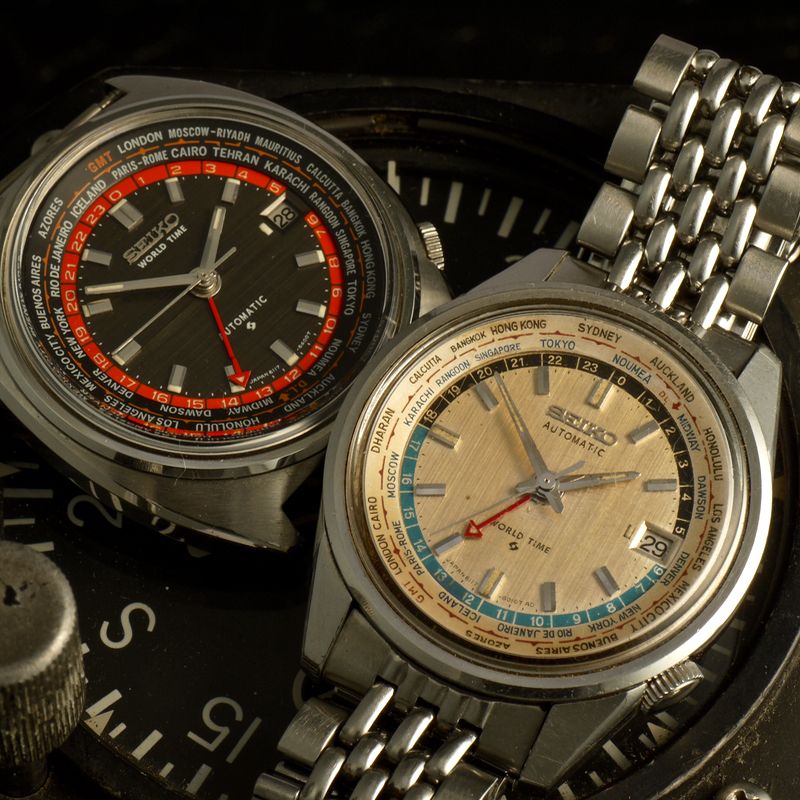 1968
Seiko World timer
Prototype of world's first supersonic airliner
1968 Seiko World timer ref. 6117-6019, 38mm. case, red 24 hour hand. The Seiko World timer was released in 1964 for the Tokyo Olympics and was an expensive watch at 12.000 yen.
World timer watches have been produced by a number of manufactures and brands, but one of our all-time favorites is the reference 6117 by Seiko. These watches were produced from mid 1960s to early 1970s and bring together a great case design, robust Japan made movement and a stunning dial/bezel layout for a bargain price.
multi functions crown.
1. Fully in position: turns the GMT bezel to align with a second Timezone/City.
2. Crown out to first click: set the date.
3. Full crown out to second click: stops the second hand and adjust the hour and minute hands.
Seiko mechanical watches are highly prized by collectors.
The company was founded in 1881 in Tokyo, Japan. Eleven years later, in 1892, Seiko began to produce clocks under the name Seikosha.
Seiko is a Japanese word meaning "exquisite" or success.
The first watches produced under the Seiko brand appeared in 1924. In 1969, Seiko introduced the Astron, the world's first production quartz watch; when it was introduced, it cost the same as a medium-sized car. Seiko later went on to introduce the first quartz chronograph. In 1985, Orient and Seiko established a joint factory.
Seiko is perhaps best known for its wristwatches, all of which were at one time produced entirely in-house. This includes not only major items such as micro gears, motors, hands, crystal oscillators, batteries, sensors, LCD's but also minor items such as the oils used in lubricating the watches and the luminous compounds used on the hands and the dials.
Seiko produces both quartz and mechanical watches of varying prices. The least expensive are around US$45 sold under the brand Alba, the most expensive, Credor Juri GBBX998, costs US$554.000.