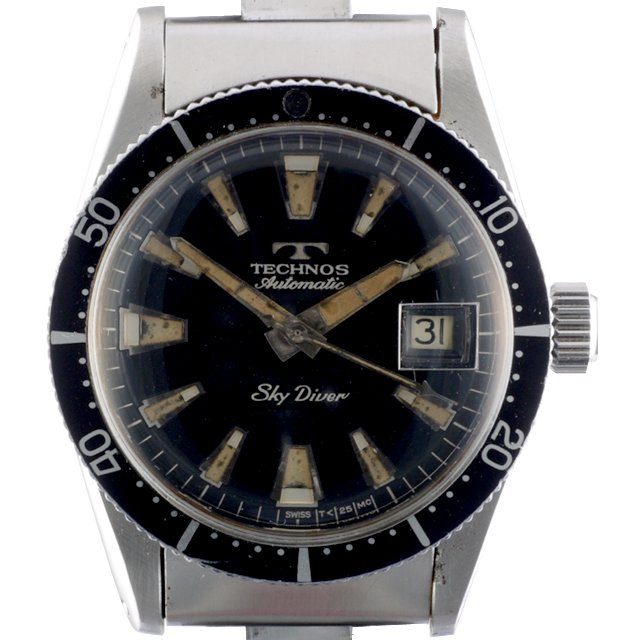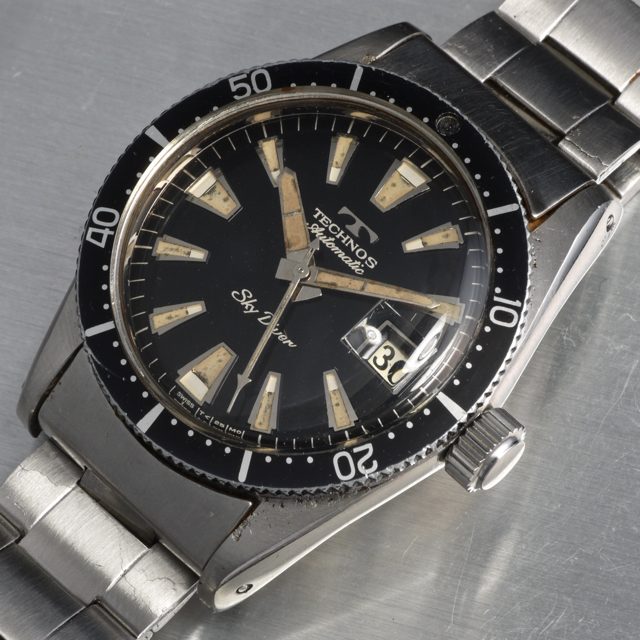 1968
Technos Sky Diver
The successful flight of Apollo 8 makes Commander Frank Borman, Command Module Pilot James Lovell, and Lunar Module Pilot William Anders the first people to orbit the moon.
1968 Technos Sky Diver ref. 1163. 37mm. case, big crown and Oyster style bracelet. Automatic movement cal. AS1700.
This is a very cool and well made watch, the dial is glossy and gilt like the old Rolex dials.
Technos first registered in 1924 in Switzerland, after WWII it has significant market share, especially in Japan and Brazil. Like many other Swiss watch brands, it was almost swept into oblivion by the onslaught of the Japanese watch industry in the mid-1970s. The brand is now Brazilian-owned.
The first ever specialized diving watches were the Panerai, used by the Italian frogmen in the Second World War. Actually they were Rolex 3646s with special dials made by Panerai.
Right after WWII, two French combat diving corps started to search for a military grade diving watch, big and easy to read underwater, hermetically sealed and capable to absorb shocks this helped Blancpain to develop the legendary Fifty Fathoms introduced in 1953. The transformation of the simple water resistant watch to the tool diver watch happened at that exact point. The next year Rolex launched perhaps the most famous diver watch of them all, the Rolex Submariner; from that point most of the Swiss companies started to shift their attention towards the sea, trying to produce reliable underwater-capable wristwatches.