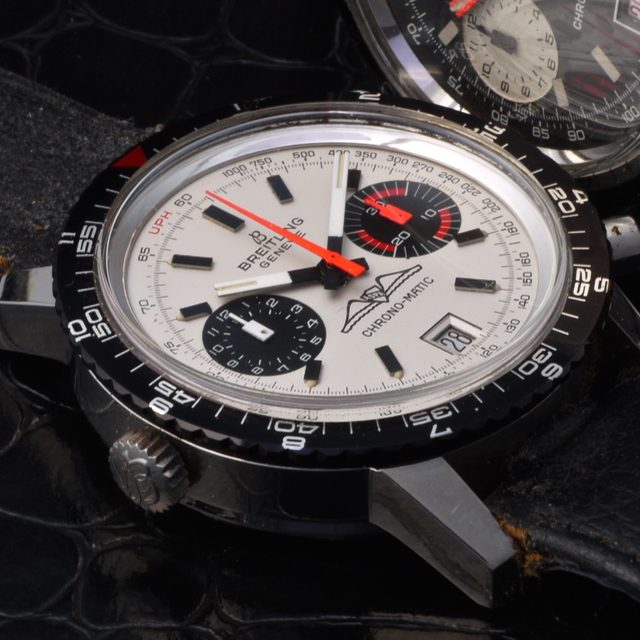 1969
Breitling Chrono-Matic
Neil Armstrong and Buzz Aldrin become the first humans to walk on the moon
Rare 1969 Breitling Chrono-Matic, special made dial for AOPA, aircraft owners and pilots association, ref. 2110, automatic movement cal. 11, 38.2mm. case, tachymeter scale.
After creating the first self-winding chronograph movement in 1969, the Breitling company invented a whole range of chronographs and named them Chrono-Matic, featuring an original and distinctive appearance following the 70s trend.
The movement is based on the Buren 1282 with micro rotor and was not designed to attach a chronograph mechanism – this led to the crown at 9 o'clock. While the el Primero has survived until today, the expensive design made this movement a victim of the quartz boom. Consequently, the number of these watches with the crown on the wrong side is pretty low.
Breitling has been a leading innovator in high quality stopwatches and chronographs and helped define how chronographs look and function until today.
Breitling launched the first wrist chronograph with a pusher at 2:00 in 1915, presented the first dual pusher wrist chronograph with pushers at 2:00 and 4:00 in 1933 and was one of the first manufacturers to recognize the need of early aviators for wrist watches incorporating such devices.
In 1942 Breitling introduced the Chronomat, the worlds first Smart Watch, a chronograph with a rotating logarithmic slide rule that allowed complex calculations with the turn of your fingers.
Throughout the 1930s to 50s, Breitling continued creating chronographs with different scales to suit different professions, such as tachymeters for production engineers and drivers, and pulsometers for doctors.
A tachymeter scale measures how fast an object is moving. The scale can be found either on the dial or in the bezel. Most tachymeters start at 400 and end at 60, but some models can show different numbers. Its very simple to calculate the speed: just mark a point and push the start button. After the object has moved for one kilometer (or mile), push the stop button.