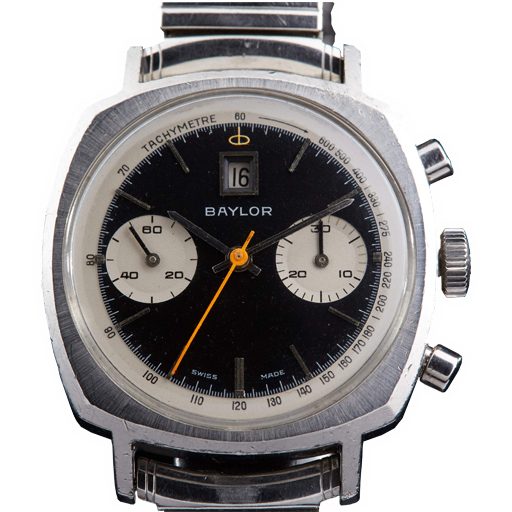 1970
Baylor Chronograph
US troops invade Cambodia

1970 Baylor Heuer Chronograph
With a stainless steel case of approximately 37mm (excluding crown and pushers). Baylor Heuer Chronographs produced by Heuer for numerous important retailers in 1970. This particular example features a Includes vintage Speidel Calendar watchband with a calendar from 1973. In recent years, their price points were out of reach of many average enthusiasts, giving rise to what we now refer to as "Poor Man's Heuers."
Of the late 1960s, Baylor Heuer Chronographs, produced for the jeweler Zales (Tradition Watches was their house-brand name). Baylor-branded watches used many of the same parts as the Heuer Autavias and Carreras. While many of the Baylor-branded Heuers were based on more common models. Such as the Autavia and Carrera, the one that we've found here takes its queues from the humble Camaro. With a properly retro vibe, the 37mm cushion case exudes '70s style.
It's even rumored that as Heuer began to shift its focus toward automatic chronographs with new cases and dials, Zales was able to snatch up parts for pennies on the dollar. The result was a small array of watches that looked and felt just like Heuers. Because they were.
In the 1960s and 1970s, the fashion was for sporty chronographs in sturdy cases. Some of the most renowned racers and teams of the day regularly seen sporting Heuer's Carrera, Monza, and Autavia models.
These watches have picked up quite a bit of traction in recent years, as collectors realize the value of these stunning and sporty watches. However, they're perhaps undeserving of the moniker, because their solid cases and dependable movements are the same as those used by Heuer.
In fact, Heuer manufactured pieces to be sold at a more affordable price through large retailers like Sears & Roebuck and Zales, under names like Tradition or Baylor. Baylor Heuer Chronographs is in very good condition overall, with factory brushing intact and normal signs of wear consistent with age and use throughout. Navy blue reverse panda dial is in excellent condition with normal signs of aging; non-luminous pencil hands are in excellent condition. White outer tachymeter scale has light signs of age. Signed crown. Screw case back.
This watch goes to show that you don't need a big name to have a big presence on the wrist.
Submitted by: Analog Shift