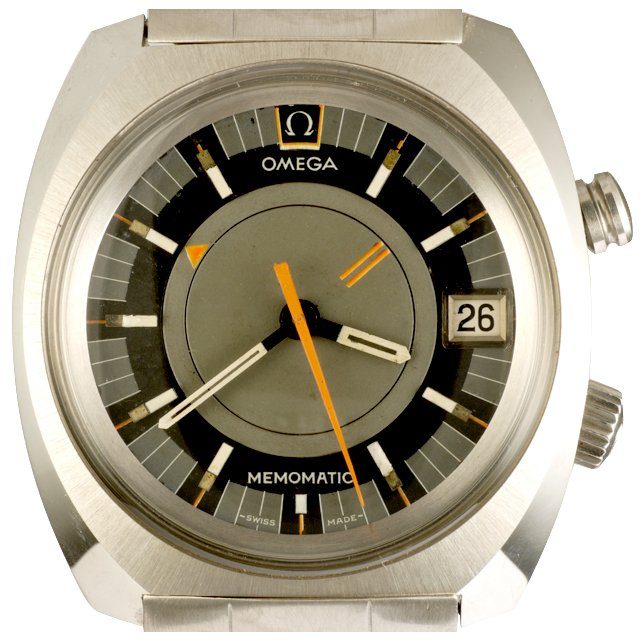 1970
Omega Memomatic
Bar codes (computer-scanned binary signal code) are introduced for retail and industrial use in England.
1970 Omega Memomatic ref. 166.072 cal. 980.
IMO this watch is undervalued for an big alarm automatic watch.
The Memomatic was the only alarm watch produced in 1970s that offered minute by minute setting. If you wanted to be on time for a meeting at 20 past three precisely in the afternoon, your memomatic wrist alarm could remind you with an exactitude unavailable in other wrist alarms such as the Vulcain Cricket or the Jaeger le Coultre Memovox.
The barrel shaped Memomatic case was the longest-living of all the Memomatic models remaining in the Omega catalogue from 1969 to 1979 and is notable in a numbers of ways: superb case design, ground-breaking functional features and amazing dials that remain appealing to the contemporary eye.
Only 35,000 pieces were produced over four models, and Memomatics have risen steeply in value over the last couple of years but still an undervalued alarm wrist watch, it was the first of many watch to have the self-winding alarm and winding time functions operate with one barrel.
Omega was founded in 1848 by Louis Brandt at the age of 23. The brands reputation grew fast and in 1895 the watches achieved a precision of 30 seconds a day.
By the turn of the 19th century Omega was one of Switzerland's largest watch companies with 240,000 watches produced annually and employing 800 people.
Omega made its debut in sports during the Gordon Bennett international ballooning Cup in 1917; since then Omega has gone on to be the official timekeeper at 21 Olympic Games.
In 1936 Omega set the remarkable World precision record of 97.8 points at the Kew-Teddington observatory in England.
In 1957, with motorsport in mind, Omega launched the Speedmaster, which in 1965 was chosen by NASA as its official chronometer in Space. Four years later the Moonwatch was the first watch to be worn on the Moon, when on 21st July 1969 Neil Armstrong made his giant leap for mankind. Currently Omega belongs to the Swatch Group.