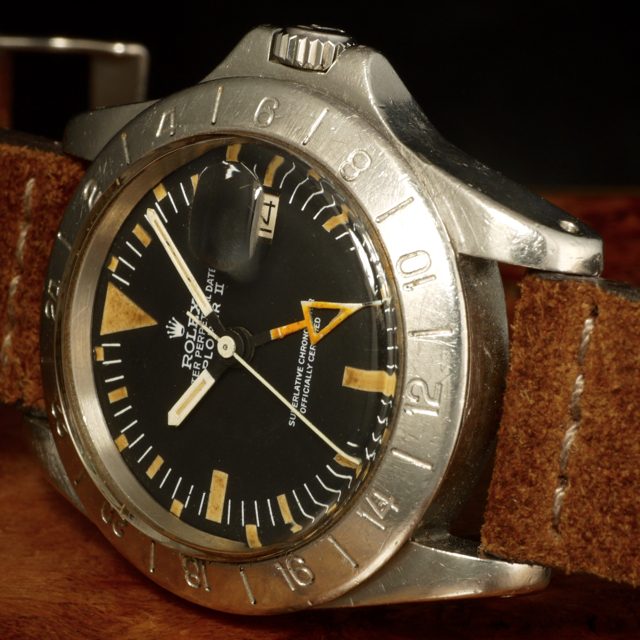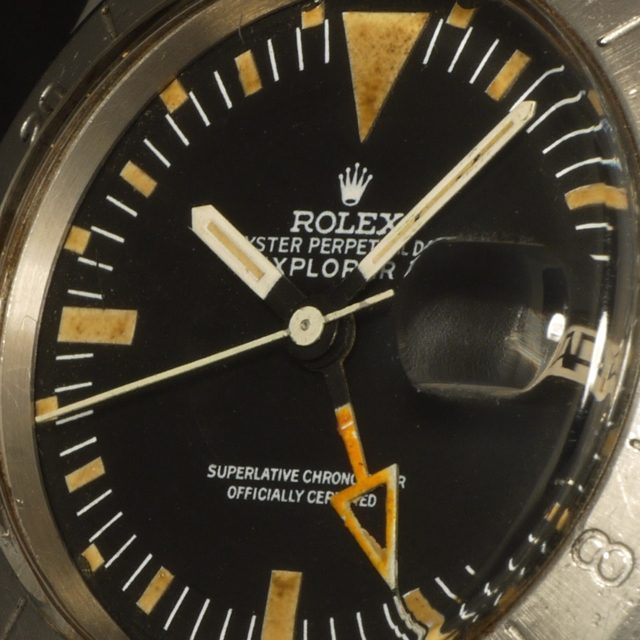 1971
Rolex Explorer II Steve McQueen
Jim Morrison dies in Paris at age 27
rare 1971 Rolex Explorer II Steve McQueen ref. 1655 with mark I dial and bezel.
This model was introduced in 1971. It features a fixed stainless steel bezel and a 24-hour hand. The most striking thing about the Rolex Explorer is that it was designed specifically for cave explorers who, due to being in the dark for so many hours at a time, tend to lose their perspective day and night. The 24-hour hand tells you whether the watch is indicating a.m. or p.m.
The 1655 wasn't a very popular watch back in the 70s and 80s, though it was assured a famous spot in collections everywhere because of the false myth that Steve McQueen wore one during his lifetime. The truth is that Steve McQueen didn't wear any Rolex except his trademark: a stainless steel Rolex Submariner.
If you look at some of the old Explorer II watches, you will see that some of them have a 24-hour hand that appears to be yellow or all white. Both the original orange hand and the later red hand tend to discolor badly. Annoying when you were the first owner in the 1970s or early 1980s, a blessing for a lot of collectors now.
Rolex was founded in 1905, the goal was to create wristwatches based on 3 challenges.
The first challenge was archived in 1910 when Rolex sent its movement to the School of Horology in Bienne and was awarded the world's first wristwatch chronometer rating.
Realizing the value of a timing certificate, the company decided they would not accept any movement unless it passed a Rolex seven-day battery of tests, so Rolex set the timing standard for the rest of the watch industry.
In 1926 the second challenge was achieved with the birth of the Oyster, so-named as it was as impenetrable as an oyster! Although this invention was initially thought of with skepticism and took some notable events to break this preconception, one year later Mercedes Gleitze swam across the icy waters of the English Channel wearing a Rolex Oyster on her wrist.
All three challenges were completed in 1931 when Rolex launched the first automatic watch. The idea was not new, but it was Rolex that finally perfected and patented the Perpetual self-winding mechanism.
Now the scene was set. Rolex was now producing a watch small enough to be worn on the wrist, impervious to outside elements and which required no winding from the wearer; the Rolex Oyster Perpetual.
Forbes ranked Rolex No.72 on its 2014 list of the world's most powerful global brands. Rolex is the largest single luxury watch brand, producing about 2,000 watches per day, with estimated 2012 revenues of US$7.7 billion. Rolex SA is owned by the private Hans Wilsdorf Foundation, which is registered as a charity and does not pay corporate income taxes.