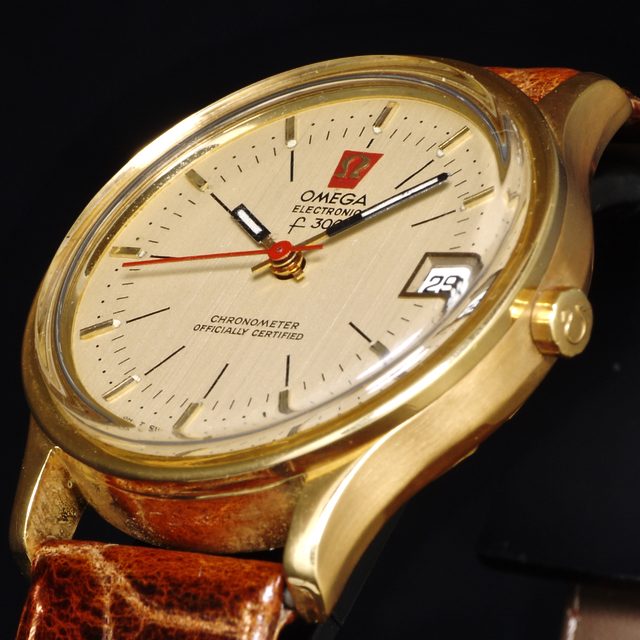 1972
Omega Electronic f300 Hz
Electronic mail is introduced
1972 Omega Electronic f300 Hz ref. 198.003, gold screw back 35mm. case, 1250 Mosaba movement.
The f300 movement was developed by ESA, an update by Max Hetzel of the original Bulova tuning fork . ESA supplied these to many companies inc; Longines, IWC, Baume & Mercier, Tissot, Omega, etc…Omega were their largest customer by far, all Omega movements have a gilt finish compared to the Geneve stripes of the other marques. The Omega f300 chronometers were tested to mechanical movements standards and they easily pass. Although more accurate than mechanical movements, tuning fork movements were quickly replaced by quartz movements, which became cheaper to produce and more accurate.
Omega was founded in 1848 by Louis Brandt at the age of 23. The brand's reputation grew fast and in 1895 the watches achieved a precision of 30 seconds a day.
By the turn of the 19th century Omega was one of Switzerland's largest watch companies with 240,000 watches produced annually and employing 800 people.
Omega made its debut in sports during the Gordon Bennett international ballooning Cup in 1917; since then Omega has gone on to be the official timekeeper at 21 Olympic Games.
In 1936 Omega set the remarkable World precision record of 97.8 points at the Kew-Teddington observatory in England.
In 1957, with motorsport in mind, Omega launched the Speedmaster, which in 1965 was chosen by NASA as its official chronometer in Space. Four years later the Moonwatch was the first watch to be worn on the Moon, when on 21st July 1969 Neil Armstrong made his giant leap for mankind. Currently Omega belongs to the Swatch Group.