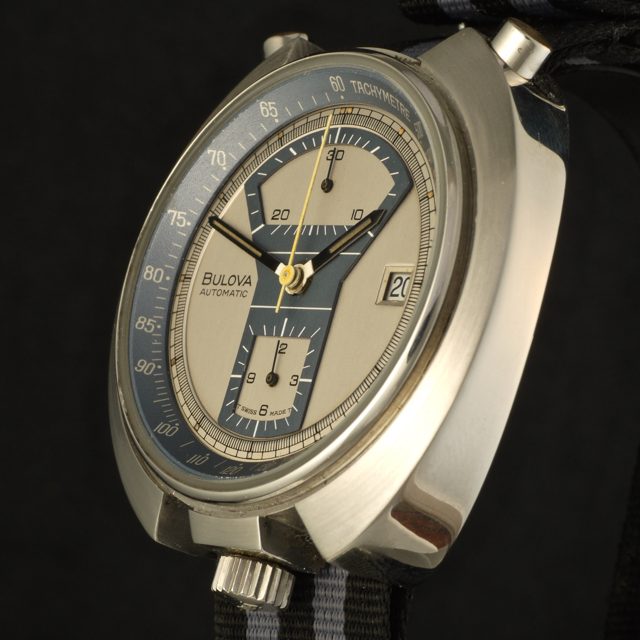 1973
Bulova BullHead
A ceasefire is signed, ending involvement of American ground troops in the Vietnam War. after 12 years of combat
1973 Bulova Bullhead, automatic movement calibre 11.
The word bullhead is the term used for chronograph watches that have their crown and chronograph pushers on top of the case (in some cases the crown is at the bottom of the case) rather than on the side hence resembling the look of the head of a bull with its horns. These cases are usually larger and thicker than the average chronographs. Most of the time their cases are not even-shaped, meaning that the top of it where the pushers and the crown is located is wider and thicker and the bottom of the case is thinner. This way the dial is tilted towards 6 oclock. This allows the wearer to check the time on the watch much more easily hence the oddity of the case. They are particularly special for no reason other than in most cases they were produced in relatively small numbers.
The movement is based on the Buren 1282 with micro rotor and was not designed to attach a chronograph mechanism this led to the crown at 9 o'clock. While the el Primero has survived until today, the expensive design made this movement a victim of the quartz boom. Consequently, the number of these watches with the crown on the wrong side is pretty low.
Bulova is the most successful American watch manufacturer. Established in 1875 in New York by an immigrant named Joseph Bulova, it was acquired by the Loews Corporation in 1979 and then again by Citizen in 2008, but continues to operate independently from the same New York location.
Bulovas most important achievement has been the Accutron watch in 1960, which were truly revolutionary, though the electronic tuning fork movement of the Accutron watch was obsolete 10 years later by the introduction of the quartz movement.