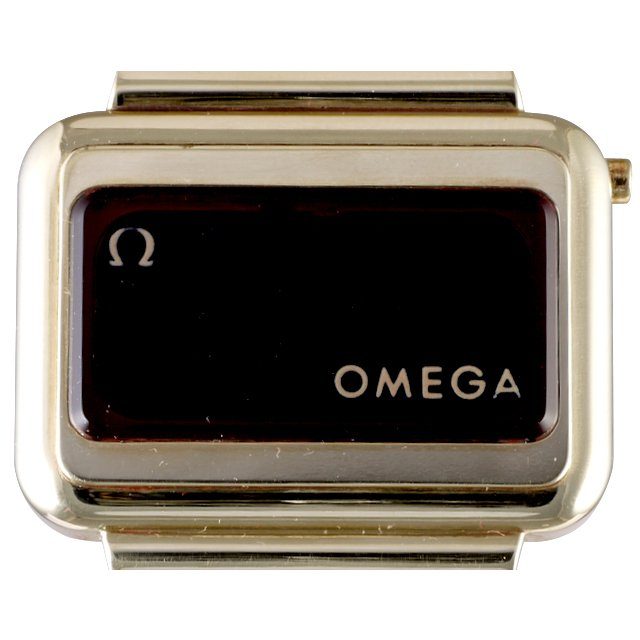 1974
Omega Constellation Time Computer III
India successfully tests an atomic device, becoming the world's sixth nuclear power
1974 Omega Constellation Digital Time Computer III gold plated 38 x 27mm. case, ref. 196.0045 or ref. 396.0833.
A Digital watch with an LED display. The hour, minute, second, date, and month are displayed thanks to a unique push button. The functions can be modified via an integrated pusher. Quartz caliber 1602, four year programmed calendar. Precision approx. 5 seconds per month.
The watches of the Time Computer line were classified as Constellations. Four versions were created, called Time Computer I, II, III and IV, and were advertised from 1972 until 1975.
Omega was founded in 1848 by Louis Brandt at the age of 23. The brand's reputation grew fast and in 1895 the watches achieved a precision of 30 seconds a day.
By the turn of the 19th century Omega was one of Switzerland's largest watch companies with 240,000 watches produced annually and employing 800 people.
Omega made its debut in sports during the Gordon Bennett international ballooning Cup in 1917; since then Omega has gone on to be the official timekeeper at 21 Olympic Games.
In 1936 Omega set the remarkable World precision record of 97.8 points at the Kew-Teddington observatory in England.
In 1957, with motorsport in mind, Omega launched the Speedmaster, which in 1965 was chosen by NASA as its official chronometer in Space. Four years later the Moonwatch was the first watch to be worn on the Moon, when on 21st July 1969 Neil Armstrong made his giant leap for mankind. Currently Omega belongs to the Swatch Group.