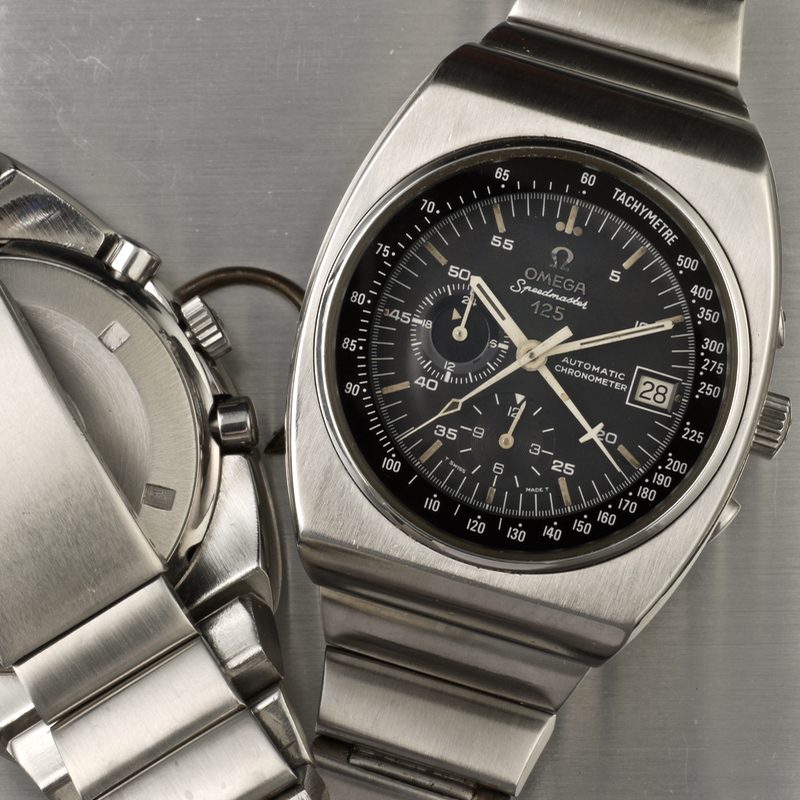 1974
Omega Speedmaster 125
OPEC ends the oil embargo begun in 1973 during the Yom Kippur War
1974 Omega Speedmaster 125 ref. 378.0801 cal. 1041.
The Omega Speedmaster 125 is a commemorative watch for Omega's 125th anniversary and its the first automatic chronograph chronometer made by the brand.
Very few were made , it is a very special watch.
The 125 uses a sophisticated version of Omega's first automatic chronograph introduced in 1972, the Speedmaster Mark III.
The Omega Speedmaster 125 relies on special construction as the case is made of two separate parts. The movement, dial, bezel and crystal are enclosed in a round inner case that fits into the chunky case itself and that is protected by an O-ring gasket. It creates an interchangeable module for the movement and dial. The Speedmaster Mark IV also shares that same construction, however in a tonneau-shaped case.
The Speedmaster 125 is a decidedly big, heavy and chunky watch that measures 51mm x 42mm, is 15mm thick and that weighs more than 180 grams. It has an integrated bracelet made of bar links, which is another contributor to its weight. The dial features an applied logo like those of the older Speedmaster models.
Omega was founded in 1848 by Louis Brandt at the age of 23. The brand's reputation grew fast and in 1895 the watches achieved a precision of 30 seconds a day.
By the turn of the 19th century Omega was one of Switzerland's largest watch companies with 240,000 watches produced annually and employing 800 people.
Omega made its debut in sports during the Gordon Bennett international ballooning Cup in 1917; since then Omega has gone on to be the official timekeeper at 21 Olympic Games.
In 1936 Omega set the remarkable World precision record of 97.8 points at the Kew-Teddington observatory in England.
In 1957, with motorsport in mind, Omega launched the Speedmaster, which in 1965 was chosen by NASA as its official chronometer in Space. Four years later the Moonwatch was the first watch to be worn on the Moon, when on 21st July 1969 Neil Armstrong made his giant leap for mankind. Currently Omega belongs to the Swatch Group.