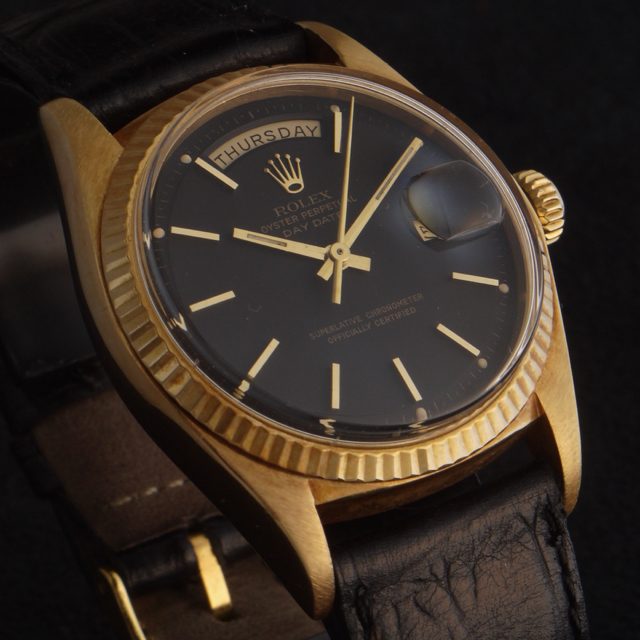 1974
Rolex Day-Date
Nixon resigns, the first President to do so.
1974 Rolex Day-Date 18k gold case, black dial, ref. 1803.
Introduced in 1956, the Rolex Day-Date was the first watch to display the day and date on its dial.
In 1947, Rolex gifted its 100,000th Rolex watch to former United Kingdom Prime Minister, Winston Churchill. Rolex created its 150,000th Rolex watch in 1951 and decided to gift it to five-star general Dwight D. Eisenhower, who would later become the President of the United States. Both of these watches were very similar, 18kt yellow gold watch with gold dial displaying the day and date and an 18kt yellow gold bracelet. Several other US presidents are known to wear a Day-Date (Roosevelt, Kennedy, Johnson, Nixon, Ford, Reagan).
Rolex was founded in 1905, the goal was to create wristwatches based on 3 challenges.
The first challenge was archived in 1910 when Rolex sent its movement to the School of Horology in Bienne and awarded the worlds first wrist watch chronometer rating.
Realizing the value of a timing certificate, the company decided they would not accept any movement unless it passed a Rolex seven day battery of tests, so Rolex set the timing standard for the rest of the watch industry.
In 1926 the second challenge was achieved with the birth of the Oyster, so-named as it was as impenetrable as an oyster! Although this invention was initially thought of with skepticism and took some notable events to break this preconception, one year later Mercedes Gleitze swam across the icy waters of the English Channel wearing a Rolex Oyster on her wrist.
All three challenges were completed in 1931 when Rolex launched the first automatic watch. The idea was not new, but it was Rolex that finally perfected and patented the Perpetual self-winding mechanism.
Now the scene was set. Rolex were now producing a watch small enough to be worn on the wrist, impervious to outside elements and which required no winding from the wearer; the Rolex Oyster Perpetual.
Forbes ranked Rolex No.72 on its 2014 list of the worlds most powerful global brands. Rolex is the largest single luxury watch brand, producing about 2,000 watches per day, with estimated 2012 revenues of US$7.7 billion. Rolex SA is owned by the private Hans Wilsdorf Foundation, which is registered as a charity and does not pay corporate income taxes.