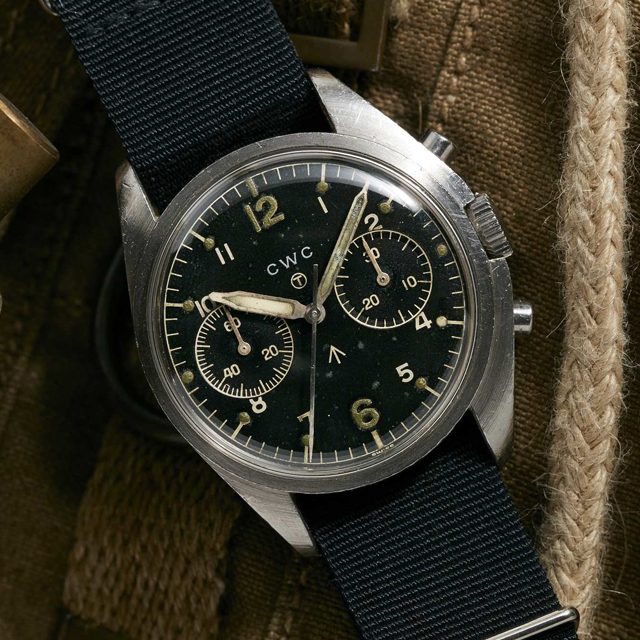 1975
CWC Royal Navy Chronograph
The city of Saigon is surrendered and remaining Americans are evacuated, ending the Vietnam War (April 30).
1975 CWC Royal Navy Chronograph
With Steel case is approximately 39mm (excluding crown). Includes two 20mm nylon straps, also this is a manual wind chronograph issued to a pilot in the Royal Navy in 1975. The Cabot Watch Company (CWC) made this CWC Royal Navy Chronograph.
in 1970, CWC was established to supply the various branches of the British armed forces with watches. In 1975, this watch supplied to the Royal Navy.
Military-issued wristwatches are one of the most interesting subsets of vintage timepiece collecting. If for no other reason than that, it has built for exactly one purpose: that was versatility. It's easy to forget in today's world of precise digital timing and measurement that a wristwatch was an extremely important tool for military personnel. Whether on land, in the air, or at sea. A watch has to keep time accurately and withstand the rigorous conditions of the field.
Starting in the 1970s, three companies manufactured chronographs to the pilots of the Royal Navy and the Royal Air Force: Hamilton, Precista, and CWC. These chronographs are notable for their asymmetrical cases–stamped 0552. In this instance, to denote property of the Royal Navy–which are larger on the right side to protect the crown and pushers also. The dials, like other military chronographs of the period, are stark: black with large, luminous Arabic numerals and hands also.
The British Ministry of Defence and Her Majesty's Armed Forces have long commissioned timepieces for their troops. So many of their issued watches have become cult favorites among collectors. In the 1940s, the MoD contracted with 12 brands (the "Dirty Dozen") for the W.W.W. (Watch, Wristlet, Waterproof). But after the Second World War, the MOD granted contracts to other brands, at reduced costs due to the austerity measures of the post-War economy.
DEF-STAN 66-4 mandated that all military-issued chronographs have a start and a reset pusher. Thus, these CWC Royal Navy Chronograph all contain the Valjoux 7733. A robust movement that is almost ubiquitous in chronographs of the period. Also, this ubiquity allows for ease of service. Thanks to greater interchangeability of parts, making these chronographs highly collectible and imminently desirable.
Fitted with a new fabric NATO strap, a super watch ready for daily wear.