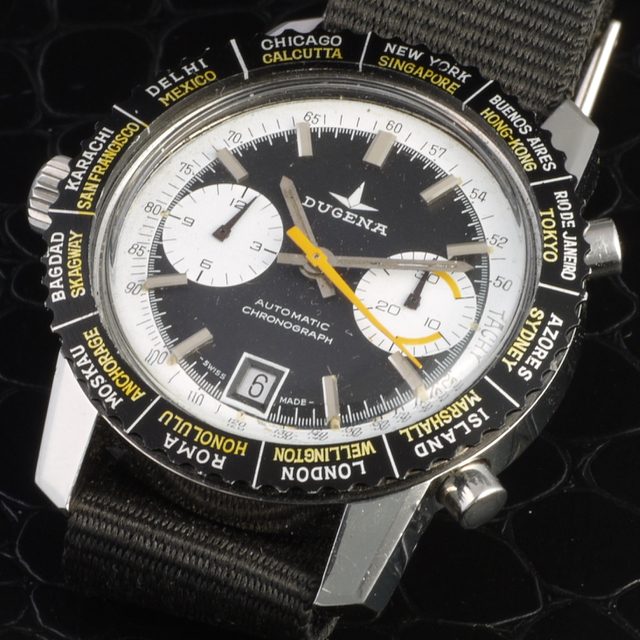 1975
Dugena World Chronograph
Home videotape systems (VCRs) are developed in Japan by Sony (Betamax) and Matsushita (VHS)
1975 Dugena World Chronograph ref. 3207, 40mm. case, automatic movement cal. 12.
The movement is based on the Buren 1282 with micro rotor and was not designed to attach a chronograph mechanism – this led to the crown at 9 o'clock. While the el Primero has survived until today, the expensive design made this movement a victim of the quartz boom. Consequently, the number of these watches with the crown on the wrong side is pretty low.
The company Dugena was established in 1917 in Germany as a branch of the Swiss brand Alpina. The name is an acronym of Deutsche Uhrenmacher-Genossenschaft Alpina and soon became a brand of its own. In 1927, the Dugena factories moved to Berlin and manufactured quality watches until the 1930s.
In the immediate post-war period, the company was on the verge of liquidation: at that time, the headquarters of Dugena were in the eastern part of Berlin, which was occupied by the Soviet Union. Sales to the West turned out to be increasingly difficult, so in 1948, the headquarters were relocated to Darmstadt. In later years, Dugena benefited from the German economic miracle. In the 1960s and 1970s, Dugena successfully overcame the quartz revolution. In 1973, the company had more than 2,000 stores in Germany.