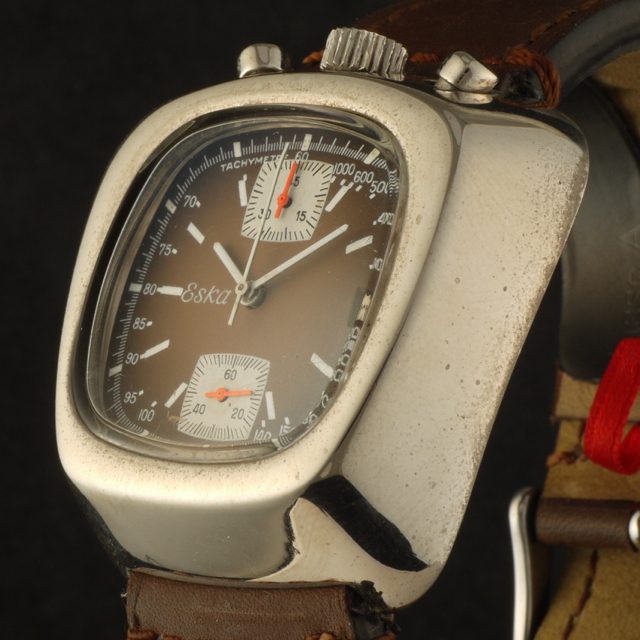 1975
Eska Bullhead
Home videotape systems (VCRs) are developed in Japan by Sony (Betamax) and Matsushita (VHS)
1975 Eska Bullhead cal. Valjoux 7734.
Eska is one of the smallest watch brands. After the end of World War I many watch manufacturers appeared in Europe and Sylvan Kocher & Cie. was of them. The name Eska is the phonetic spelling in French of the letter s and k (es-ka). The wristwatches of the brand included manual and automatic models, besides models with full calendars and digital time displays.
The word bullhead is the term used for chronograph watches that have their crown and chronograph pushers on top of the case (in some cases the crown is at the bottom of the case) rather than on the side hence resembling the look of the head of a bull with its horns. These cases are usually larger and thicker than the average chronographs. Most of the time their cases are not even-shaped, meaning that the top of it where the pushers and the crown is located is wider and thicker and the bottom of the case is thinner. This way the dial is tilted towards 6 o'clock. This allows the wearer to check the time on the watch much more easily hence the oddity of the case. They are particularly special for no reason other than in most cases they were produced in relatively small numbers.